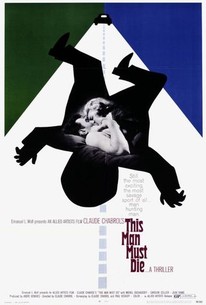 This Man Must Die
1969, Drama, 1h 55m
8 Reviews
1,000+ Ratings
Rate And Review
Movie Info
Charles Thenier's (Michel Duchaussoy) son is killed by a hit-and-run driver and, when the police investigation yields nothing, he does his own detective work. He meets the killer's sister-in-law, Helene (Caroline Cellier), and pretends to romance her. Soon he's invited to meet the family and learns that the killer, Paul (Jean Yanne), is a completely reprehensible person. Charles hesitates to kill him, however, because of what's become an increasingly sincere attraction to Helene.
Audience Reviews for This Man Must Die
For such a quiet, clam movie it packs a ver heavy emotional punch by the end and the performance by Michel Duchaussoy is nearly flawless.

Given that Nicholas Blake's "The Beast Must Die" is one of my favourite crime novels, I was looking forward to this adaptation by Claude Chabrol, though I suspected beforehand that it might be slightly disappointing. Essentially a bereaved father's diary, recording a vengeful scheme to find and punish the man who killed his son in a hit-and-run accident, the book contains a stunning surprise that only really works properly on the page. The film works best as a touching, gradually developed love story between the father (Michel Duchaussoy) and the woman (Caroline Cellier) he uses as an unwitting pawn in his game of retribution. The final scene, in which our hero finds redemption in a fatherly act of self-sacrifice for a substitute son, is absolutely lovely. Jean Yanne is terrific as the villain.

After several attempts I finally managed to complete this film, I like the plot of this film very much, but it really drags in the middle of this movie, making it feel like a long watch.
See Details