Three Times (Zui hao de shi guang)
(2005)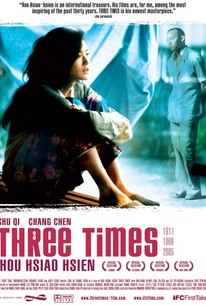 Three Times (Zui hao de shi guang) Photos
Movie Info
Millennium Mambo director Hou Hsiao-hsien explores the ever-changing cycle of love in this collection of three romantic stories set in 1911, 1966, and 2005 and utilizing the same actors in all three tales. In "A Time for Love," a fresh-faced soldier boy named Chen (Chang Chen) searches for a pool hall hostess named May (Shu Qi) who captured his heart before disappearing into the crowd. The second tale, set against the backdrop of the Japanese occupation of Taiwan and entitled "A Time for Freedom," finds an elegant courtesan tending to a young intellectual in a lavish brothel. The trilogy draws to a close with a segment entitled "A Time for Youth" in which a present-day Taipei singer who is also an epileptic neglects her female lover to seek the romantic attentions of a talented photographer.
Critic Reviews for Three Times (Zui hao de shi guang)
Audience Reviews for Three Times (Zui hao de shi guang)
It is always interesting to see Hou put together in the same film three stories that feel like a culmination of the main themes found in his work along so many years, even though the third leaves a lot to be desired and I find too distracting the fact that the second one is silent.
Carlos Magalhães
Super Reviewer
Love across the ages...been done to death right? Perhaps, but it often isn't done right to death. We have had epics from mainland China and the great action genre of Hong Kong so it is good to see a Taiwanese film adding to Chineses collection. Quite touching.
John Ballantine
Super Reviewer
[font=Century Gothic]"Three Times" contains three stylish vignettes set in Taiwan in 1966(Time for Love), 1911(Time for Freedom) and 2005(Time for Youth), each starring Qi Shu and Chen Chang playing characters in differing states of infatuation. Each story was made in an attempt to emulate each era's movies, not so much the reality of that time.(Any time period never looks at itself completely honestly, censoring out any forbidden subjects, thus giving truth to the lie that nobody had hot sex before 1969.) Although 1966 owes a lot to Wong Kar Wai, 1911 is done as a silent film complete with intertitles and musical accompaniment, albeit in color. With the earlier times, there is a sense of so close and so far for the couple in question but in 2005 with total freedom, the couple is together but not happy, suggesting that with increased liberty, we are not necessarily any happier than in stricter times. But you know what? I'll take my chances with the present day... [/font]
Three Times (Zui hao de shi guang) Quotes
There are no approved quotes yet for this movie.