Thriller - A Cruel Picture (Thriller - en grym film) (Hooker's Revenge) (They Call Her One Eye)
(1974)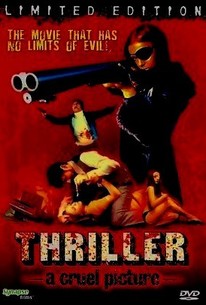 Thriller - A Cruel Picture (Thriller - en grym film) (Hooker's Revenge) (They Call Her One Eye) Photos
Movie Info
After being raped as a child by a greasy derelict, Madeleine (Christina Lindberg) is left mute. Fifteen years later, she has grown into a beautiful, but very traumatized young woman. After missing her bus one day, Madeleine is picked up by a smooth-talking man named Tony Dill (Heinz Hopf), who hooks her on heroin and forces her into prostitution, slicing one of her eyeballs out with a scalpel in graphic detail (Lindberg claims director Bo A. Vibenius used a real corpse) when she revolts. When Madeleine's parents commit suicide, she snaps, and begins training in karate, stunt driving, and shooting, biding her time for a violent revenge. That's when the shocks really begin, particularly in the original version, which is 15 minutes longer than the truncated print released by American International. Lindberg suffered similar travails in Gustav Wiklund's smarmy (but less explicit) Exponerad three years earlier. ~ Robert Firsching, Rovi
Critic Reviews for Thriller - A Cruel Picture (Thriller - en grym film) (Hooker's Revenge) (They Call Her One Eye)
Audience Reviews for Thriller - A Cruel Picture (Thriller - en grym film) (Hooker's Revenge) (They Call Her One Eye)
½
Essentially everything that I Spit on Your Grave wishes it could be. This takes revenge to the next level with some truly flawless slow-motion death scenes. It's really nutty in a good way, sort of a cautionary tale for young women. Don't ever take a ride froma stanger because he'll take you home and drug you for three days and get you addicted to heroin. Then he'll enslave you into prostitution and cut your eye out if you misbehave. It's a really experimental film, a lot of drawn out shots and long shots, but that's one of the things that makes it so great.
Conner Rainwater
Super Reviewer
Lots of unforgivable ridiculousness with the only highlights being Christina Lindberg and her lady garden you could undoubtedly hide a VCR in. It starts off pretty upsetting with childhood rape and I'm guessing the filmmakers planned on hitting the gas until they crashed through the wall but instead took the scenic way and ran out of momentum. The slo-mo action is nothing short of painful and the sleaze factor doesn't justify the viewing. Thriller could've been a whole lot better if it weren't for the unexplained randomness (i.e. where the hell did that horse come from?) and complete and total lapses in logic. I understand that I was supposed to abandon the regular thought processes I normally run with here, but caaaahm ahhhhn!
Michael Gildea
Super Reviewer
Alot of really bad slow-mo...somehow this was made by Ingmar Bergman's assistant director
Ken Stachnik
Super Reviewer
Thriller - A Cruel Picture (Thriller - en grym film) (Hooker's Revenge) (They Call Her One Eye) Quotes
There are no approved quotes yet for this movie.