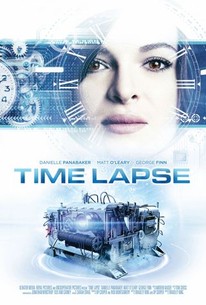 Time Lapse
2014, Sci-fi/Mystery & thriller, 1h 44m
18 Reviews
2,500+ Ratings
Rate And Review
Movie Info
Three friends discover a photo machine that shows pictures a day into the future. After they use it for personal gain, disturbing and dangerous photos begin to develop.
News & Interviews for Time Lapse
Audience Reviews for Time Lapse
How well do you really know your neighbors? When Callie and Finn's elderly neighbor passes away, they are left to clean out his apartment and what they find is more than a little disturbing. Next to some strange device is a wall with thousands of pictures of them! At first they think the man was just a pervert, until the next day when they realize the machine is a camera that is taking a picture of their apartment, 24 hours into the future. With the help of their friend, Jasper, the couple decides to use the technology to get rich, but it doesn't take long for the local criminal element to realize what's going on, and try to take a piece of it. Most writer/directors don't hit a homerun their first time out, but in this case, with the help of a young up and coming cast, that's exactly what Bradley King did. This film is very engaging and has you on the edge of your seat, combined with an utterly shocking ending, this is the kind of film that you will still be thinking about days later. It's amazing to me that something of this quality was never released in theaters, but it is just as good, if not better than any thing you'll see on the big screen. The one drawback is that it does take a little while to get moving, hence the bad reviews from people who can't give a film more than twenty minutes, but once it gets started, Time Lapse quickly grabs hold and never lets go. It is refreshingly original and has a young cast that is every bit as intense as the film itself.

Time traveling movies have the largest amount of room for error in their writings. Creating paradox, plot holes, and inconsistency. This all applies to all forms of stories, but the ones where time traveling is involved are at greater risk coming across these issues than any other type of stories. However, the less amount of errors you have in a time traveling story the better the overall result can be. Time Lapse is one of those instances where a simple approach to a complex concept makes a good film. Time Lapse follows three friends discovering a mysterious machine that takes pictures 24 hours into the future and conspire to use it for personal gain, until disturbing and dangerous images begin to develop. One aspect about Time Lapse that most films about time manipulation do incorrectly is over complicate the mechanics behind time travel. In this film, upon the main character's discovery of this camera the rules are laid out, and are easy to understand. Our characters attempt to understand how this camera, and test it out to confirm it functions. Characters in the present are given a picture of themselves 24 hours into future doing various things, and the characters in the present timeline have to match the photo in 24 hours so their past self can receive the same photo. The characters never travel between timelines meaning there's less chances to create a paradox. If something goes wrong the characters, at no point, can they travel back in time, and undo an event. At most, they can simply warn their present self in a photo from the future. Another nice bonus to the camera is how it's used to foreshadow events in the future visually. With this simple element the writers are allowed to focus more on the characters than spending several scenes discussing the mechanics of the camera. This also gives the writers opportunities to set up seemingly unimportant elements of the film, and bring them up later to be used later on. Characters are few in number, and written in a way they can carry the film on their own. Throughout the run time the film never loses focus on the main characters. Finn (Matt O'Leary) is an aspiring painter who can't seem to get the final product from his mind onto a canvas. Jasper (George Finn) is a slacker who attempts to make money through illegal gambling like betting on races. Finally, Callie (Danielle Panabaker) the supportive girlfriend of Finn. These three characters are always together creating an intimate tone within the story. Not only that, but their interactions with each others conveys these are long time friends. Instead of telling us about these characters relationship with each other it shows it to the viewers. Through the course of the movie greed will take over each of the character taking a toll on them in different form. These three characters are dynamic making the events that prevent the story from heading into a linear path. These character gradual changes add twists to the story while never over complicating the overall storyline. Character relationship are explored in the film. From Finn and Callie relationship that seems rocky to Finn and Jasper that argue over how this camera should be used. It's all driven by the characters. Best aspect about the small cast is how clear everything is about them. They aren't complex characters, but their simplicity work extremely well in the confined in the story presented. The film does sprinkle discussions about the consequences of playing against time, but the concept isn't fully explored compare to the character relationship that becomes rocky over time. As much as I am praising the film there's evidence of the low-budget indicating how events fold out in the film. Despite giving the film my highest rating possible these issues prevent Time Lapse from feeling like a great experience. For starter, one of the film's central conflict revolves around illegal gambling, and a bookie who doesn't like the idea Jasper (one of our three main characters) is winning so much money. This conflict could have easily been remedied if Jasper simply went into legal gambling like buying lottery tickets. This huge over sight is done to provide conflict to the story in the form of Ivan giving a life threatening presence, and actual consequences of their usage of this camera besides their friendship. A more organic conflict arising from Jasper large winnings was possible, but wasn't taken for the sake of the story. Another is the lack of location within the film. Everything basically takes small in one small area. In order to compensate for the lack of location the filmmakers opted for a more personal story involving its characters. Unfortunately, the camera never leaves the gates of this one area so visually you'll be seeing the same rooms, and the same set without it ever changing. It's all shot well thanks to cinematographer Jonathan Wenstrup polish, tightly confined, and clear look for the film. One aspect that wasn't a hindrance, but could use an explanation is one moment in the film. Jasper takes a picture from his phone of the photograph from the camera which manages to show the same thing. What this says is basically a photo taken by any other devices other than this huge, futuristic camera can also capture a photo that show events that will transpire 24 hours into the future. The film never goes into the creation of this camera, but even if it did it likely would have sounded preposterous given the huge size of the actual camera. The one aspect that makes this whole film come together is the acting. Matt O'Leary takes charge as Finn. He's charismatic, and a capable leading man. His acting shops proves his immense likability being funny, dramatic, and struggling internally sometime all within one scene. Matt O'Leary has a good grip of his character that he becomes Finn without questioning it. George Finn plays Jasper with a good portrayal of his slacker turned into psycho. What best about this performance is George Finn doesn't go over the top when showing the darker aspect of his character. He simply hints at it throughout with simple gesture making for a calm psycho. Danielle Panabaker plays Callie making her likable. Unlike George Finn character, Panabaker isn't given enough scenes to gradually show her transform into a different character. However, Danielle Panabaker is able to hide her character ulterior motive without viewers catching on. Together all three actor keep viewers engaged during a slow build of the story. Their chemistry with each other is natural in every scene they take part in. Selling quickly the idea these are long time friends. The supporting casts are a nice addition from Jason Spisak as the bookie, and David Figlioli as his bodyguard. None of them look intimidating, but are their performances work. The remaining cast member to mentioned have brief appearances in the film. They won't make much of an impression since their screen time is very brief. Time Lapse soundtrack doesn't contain much music making the noteworthy track, "Spider" by the band The Autumn Owls easy to spot. All the music will go unnoticed since it's not a strong presence in the film. The music isn't huge on a tracklist, but it's effective nonetheless. If you're still pondering over the rating (even you read the previous paragraphs) here's a bit more insight. The choices made by the filmmakers are equal to those done by veteran filmmakers. You have a great premise, and plenty of ideas with it to tell engaging story. However, there's a giant plot hole that should prevent the story from being told the way it is. Do you compromise an original vision, or rework to way in a new way? In this film, nothing feels like it was compromised because it was engaging to forgive it giant plot hole, and become immersed in the story. Every choice from the casting, the look, and even the execution was expertly handled by director Bradley King in his first feature-length film. Not only that, but also compliments to both Bradley King, and BP Cooper for their written film. They do not have experience on under their belt, and do display potential talent in crafting a film. Whether or not these two will continue to make films remains unanswered, but they with their showcase with film is any indication they might be capable of creating a classic film. Time Lapse is an enjoyable, simple film that's better written than you might expect. The choices made are similar to veteran filmmakers in crafting a good film. It won't have the wow factor of any time travel classic due to some sacrifices in the writing, nor the technical prowess to stand out, but it's nice a little gem in the low-budget sci-fi department. You can also find me at. Letterboxd: http://letterboxd.com/cinema_maniac/ Wordpress: https://personafication.wordpress.com/

This is a pretty good movie that, honestly, in my opinion, doesn't take full advantage of its concept as possible. Or perhaps maybe it does and the only thing that's a problem is the fact that it pretty much plays out in exactly the same way you would expect. The only thing that really feels that's truly this film's, and not something borrowed, is the fact of why does the machine only take photos at nighttime when it, prior to these three finding it, took photos of both day and nighttime. Honestly, while the film does bring some interesting questions and themes, it's borrowed from other sources with the similar time travelling aspects. Not that this is a time travelling movie, but it does feature a machine that takes photos 24 hours into the future. But it's the same principles. What would you do with it? Would you use it for personal gain? Would you tell anybody? Would the machine change you? It's all been seen before and part of me thinks that the film lacks its own unique identity because of it. It just feels like a bunch of different things ideas and concepts I've seen before. Don't get me wrong, though, I liked the film. I think the film does a good job at centering the film around the leads and not necessarily around the whole concept itself, though it is a give and take, obviously. I just don't think the whole romance triangle as the real main narrative arc of the film is something that's that compelling. It's not like they beat you over the head with it, but it is an important part of what's driving the characters, more so than even being able to make money by giving themselves the results of tomorrow's races so they're able to bet on them and get a guaranteed win. I did like the certain manipulation going on there in order for a certain character to get something they wished for but, outside of that, a lot of it boils down to the romance triangle between Jasper, Finn and Callie and it's just not anything that's that intriguing to focus a movie with such an interesting concept on. But that's just me. The performances are good, however and the writing, while telling a story and using a concept and themes that have been done before, is still more than solid and I was legitimately interested in seeing where the film would end up, particularly the inconsistencies between the photo not taking anymore photos during the daytime and only doing taking them at 8 pm. Not a perfect movie, by any means, but one that offers a good and slightly interesting sci-fi flick. I'd recommend it as a Netflix watch only.
See Details