Time Regained
(1999)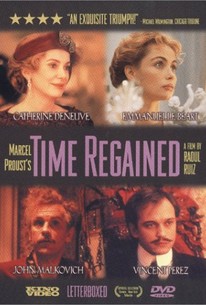 Movie Info
An ambitious project of Chile-born, Paris-based Raul Ruiz, this psychological drama brings to the screen the famous classic of Marcel Proust with fidelity to its interior monologues and streams of consciousness. Proust (Marcelo Mazzarella), on his deathbed in his small apartment on Rue Hamelin, is looking through old photos and remembering his life, as real characters intermingle with fictional ones from his novels. The period is 1914-18, when WWI is raging. Hidden in Paris, thanks to his asthma, Marcel Proust wanders into the night. He finds an aging courtesan in Café de la Paix, which is deserted by the curfew. Charlus, the seducer of young boys, is at the Palais des Felicites where he meets his lovers. Gilberte returns alone to Tansonville to evade the confiscation of her chateau by the Germans after the death of her husband at the front. Famous violinist Morel is hiding in a decrepit hotel. The demoralizing effects of war affect all the characters, hastening their decadence or transforming them into caricatures. In the whirlpool of the grotesque specter of war, Marcel finds refuge in his childhood memories to escape the atrocities around him. Death and decadence, the evanescence of human existence, and the relations between space and time are some of the main themes explored in this film, which reflects the works of Marcel Proust in every detail. Raul Ruiz has on his side a very good screenwriter, Gilles Taurand, and an impressive cast: Catherine Deneuve and John Malkovich, who have collaborated with Ruiz before, Emanuelle Béart, Vincent Pérez, Pascal Greggory, and the Italian man of theatre, Marcello Mazzarella. Shown in competition at the 1999 Cannes Film Festival.
Critic Reviews for Time Regained
Audience Reviews for Time Regained
½
The stream-of-consciousness structure effectively captures a mind lost in thought; what it doesn't effectively create, however, is drama. Moody, opulent, and just decadent enough, Ruiz's film is elegant all over and perverse around the edges, just as it should be.
Greg Wood
½
I can't fault the acting. These folks were trying..but it was terribly boring.
John Ballantine
Super Reviewer
[b]Length:[/b] 165 minutes. In French with English subtitles. [b]MPAA:[/b] Not Rated. In [i]Time Regained[/i], writer-director Raoul Ruiz has accomplished the seemingly impossible feat of capturing the feel of Marcel Proust's prose on film. Ruiz' movie, which stars Catherine Deneuve, John Malkovich, and Emmanuelle Béart, is a visually stunning adaptation of part of Proust's novel [i]Remembrance of Things Past[/i]. Like the novel, the film is a richly textured, plotless, character-driven rumination on memory, and I expect that most people will find [i]Time Regained[/i] confusing and sometimes boring at first viewing. But I believe those who are willing to study this challenging French-language movie will find it to be a rewarding experience. [i]Remembrance of Things Past[/i] is the collective title for seven volumes, and the film [i]Time Regained[/i] focuses mainly on the last volume, which in the most popular English translation is titled [i]The Past Recaptured[/i]. However, some parts of the movie are taken from earlier volumes of the novel. Also, in places the film blends the life of Proust, the author, with that of his fictional alter ego Marcel, the novel's narrator. The movie opens in 1922 with Proust on his deathbed, still working on his magnum opus. Then as Proust looks at some old photographs, in his mind's eye he becomes his narrator Marcel (Marcello Mazzarella), a man of bourgeois origins who is fascinated with the social elite of Paris. Marcel's reveries are shown in a kaleidoscopic sequence of short scenes where most of the film's major characters, settings, and themes are introduced. About 14 minutes into the film, Marcel speaks in voiceover the words that begin the seventh volume of Proust's novel: "All day long in this too countrified house ..." At this point Marcel is the house guest of Gilberte (Béart), his friend since childhood, and her husband Robert de Saint-Loup (Pascal Greggory) at their country estate at Tansonville. Gilberte is melancholy because her husband is unfaithful, and as she and Marcel discuss matters of the heart, Marcel tells her, "Heartbreak can kill, but leaves no trace." Gilberte lends Marcel a copy of the Goncourts' [i]Journal[/i], and as he reads it on the train back to Paris, it reminds him of all the people he has come to know. During World War I, Marcel attends a soirée given by Madame Verdurin (Marie-France Pisier) where a fashion designer is discussing his concept for a new line of jewelry made from shrapnel. A guest asks the hostess, "Still no sign of Odette?", to which Madame Verdurin indicates that she hopes Odette will come, adding, "She met [i]both[/i] her husbands here." Odette, the former Madame Swann, has now become Madame de Forcheville. As Odette (Deneuve) makes her entrance, Madame Verdurin says to another guest, "She's aged. Or am I dreaming?" The guest responds, "You're dreaming. She's ravishing." In a subsequent scene, we see Marcel going into an elegant restaurant in Paris with Odette, who is Gilberte's mother and Marcel's lifelong friend. However, Odette leaves almost immediately, and Marcel sees her out the door as air raid sirens wail. Marcel then goes back inside and as German bombs are heard exploding in the background, he seeks out his old acquaintance the Baron de Charlus (Malkovich) for a talk. After Marcel leaves, he is unable to get a taxi and wanders into a hotel that turns out to be a male brothel. Hearing strange sounds that might be made by someone in great pain, he investigates and discovers Charlus is making the sounds while handcuffed to a bedpost and being whipped. Also, a Croix de Guerre turns up at the brothel, and we find out it belongs to Saint-Loup, who is now serving in the military. After World War I is over, the always sickly Marcel returns to Paris from a stay in a sanitarium and encounters Charlus, who has never fully recovered from a major illness and now looks quite old. Marcel thinks back to a time years earlier when, as an adolescent, he had a conversation with Charlus on the beach at Balbec, a Normandy seaside resort. Charlus had given him some sensible advice: "Use your youth to learn two things. First, refrain from displaying emotions that are best left unspoken. Second, don't rush into answering questions before you've understood them." Later, a long sequence shows Marcel attending a lavish afternoon party given by the Princesse de Guermantes. There he sees Gilberte for the first time in years, although at first he fails to recognize her because she looks so old. From Gilberte, he learns that the current Princesse de Guermantes is none other than the former Madame Verdurin, whose nouveau-riche first husband has died, allowing her to use the money he accumulated to marry into the titled aristocracy. Then, Marcel is told by a dreadful American woman that Odette is now the mistress of the Duc de Guermantes. Throughout the party, Marcel's mind is filled with memories from the past. As Proust nears death, his final reveries take him back to a seaside resort in Normandy. He imagines himself as a young boy, playing on the beach near the water's edge. The final shot of the film is of the ocean waves. I have deliberately tried to keep my description of [i]Time Regained[/i] as straightforward as possible because the movie seems at first viewing to be so difficult. The primary reason for this is that the film, in imitation of involuntary memory, does not present events in chronological order. For example, a scene from a funeral is shown without the viewer being given any hint as to whose funeral it is, and the deceased appears quite alive in a subsequent scene. A second confusion factor is that writer-director Ruiz occasionally employs magic realism, as in those scenes where two versions of Marcel--Mazzarella playing the mature Marcel and a child actor playing Marcel as a young boy--appear simultaneously. Yet a third reason that the film is hard to follow at first is that there are so many characters that it's not easy to keep them all straight. I was captivated by this movie's visual style, which hypnotically evokes the quality of memory itself. Among the techniques used are strange camera angles, slow motion, dream-like sequences, and separate images that fuse together. But none of this intrudes on the opulent look of the film, with its elaborate sets and sumptuous costumes. The characters that Proust's exquisite, seamless prose once summoned forth in my imagination were brought to vibrant life by the superb performances in [i]Time Regained[/i]. John Malkovich has always been one of my favorite actors, and I was particularly impressed with his portrayal of the Baron de Charlus, imbuing the character with just the right amount of silky decadence and an underlying mania that cannot be kept completely under wraps. Malkovich's Charlus has one of the most subtly hideous laughs I've ever heard. I'll admit that after my first pass through [i]Time Regained[/i], I felt a bit overwhelmed by its complexity. Still, I knew that I've worked my way through other difficult films in the past--Ingmar Bergman's [i]Persona[/i] is one that comes immediately to mind--that I've eventually come to love, and I was hoping that [i]Time Regained[/i] would be another such movie. So it didn't surprise me all that much that on second viewing, I really started to love Ruiz' film. [i]Time Regained[/i] is definitely not for everyone, but for those willing to invest the necessary time and energy, I give this movie my highest possible recommendation.
bill frred
Time Regained Quotes
There are no approved quotes yet for this movie.
Discussion Forum
Discuss Time Regained on our Movie forum!