To Kill A Mockingbird
(1962)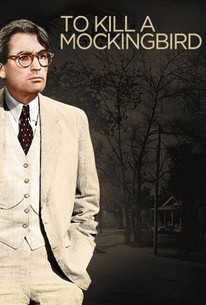 To Kill A Mockingbird Videos
To Kill A Mockingbird Photos
Movie Info
Harper Lee's Pulitzer Prize-winning autobiographical novel was translated to film in 1962 by Horton Foote and the producer/director team of Robert Mulligan and Alan J. Pakula. Set a small Alabama town in the 1930s, the story focuses on scrupulously honest, highly respected lawyer Atticus Finch, magnificently embodied by Gregory Peck. Finch puts his career on the line when he agrees to represent Tom Robinson (Brock Peters), a black man accused of rape. The trial and the events surrounding it are seen through the eyes of Finch's six-year-old daughter Scout (Mary Badham). While Robinson's trial gives the film its momentum, there are plenty of anecdotal occurrences before and after the court date: Scout's ever-strengthening bond with older brother Jem (Philip Alford), her friendship with precocious young Dill Harris (a character based on Lee's childhood chum Truman Capote and played by John Megna), her father's no-nonsense reactions to such life-and-death crises as a rampaging mad dog, and especially Scout's reactions to, and relationship with, Boo Radley (Robert Duvall in his movie debut), the reclusive "village idiot" who turns out to be her salvation when she is attacked by a venomous bigot. To Kill a Mockingbird won Academy Awards for Best Actor (Peck), Best Adapted Screenplay, and Best Art Direction. ~ Hal Erickson, Rovi
Rating:
NR
Genre:
,
Directed By:
Written By:
In Theaters:
On DVD:
Runtime:
Studio:
Universal International Pictur
News & Interviews for To Kill A Mockingbird
Critic Reviews for To Kill A Mockingbird
Audience Reviews for To Kill A Mockingbird
Phillip Alford and Mary Badham are riveting child actors as Jem and Scout, the naïfs at the center of this somewhat convoluted morality tale. The movie suffers from some old-fashioned weirdnesses like the canned suspense of the shadow creeping towards the children when obviously, the figure casting the shadow (Boo) would be completely visible to them; the canned suspense of when Scout accidentally rolls into the Radleys' yard and Jem and Dill embark on a needlessly elongated rescue attempt with Jem running up to slam the Radleys' front door for no apparent reason; the canned suspense of Boo hiding behind Jem's bedroom door and no one figuring out that he was the one who rescued the kids. So what I'm saying is, there's a lot of hokey canned suspense. The themes of coming-of-age, fatherhood, goodness, tact, humility, fighting against injustice in the face of futility, as espoused by the novel and film are still beautiful, and the entire court sequence with Brock Peters' plaintive testimony, Gregory Peck's masterful closing argument, and Reverend Sykes chastising Scout to stand as her father passes and the entire black congregation rising, are just indelible moments in our cinematic history.
Alice Shen
Super Reviewer
Gregory Peck takes the lead and provides an exceptional performance in this Harper-Lee-novel-adaptation. To Kill a Mockingbird's impecable direction and accuracy in respects to the book are the highlights of what makes this a smooth and striking film. 4/5
Eugene Bernabe
Super Reviewer
½
Films about racial prejudice often date very badly. There's no denying the historical significance of something like In The Heat of the Night, but the style in which such a film conveys its message now seems heavy-handed, even while its message remains important. Many films about racial conflict are so much a product of their time that they quickly become historical caricatures. This is true right back to the days of D. W. Griffith, though with Intolerance he could just have been trying too hard. In contrast to these films, To Kill A Mockingbird has survived largely untarnished for 51 years, with neither changes in film technique nor wider social changes serving to blunt its powerful message or diminish its memorable characters. Through the steady hand of Robert Mulligan and the brilliance of Gregory Peck, Harper Lee's beloved novel is wonderfully realised in a film which is equally graceful, playful and heartbreaking. It remains, with 12 Angry Men, the standard to which all courtroom dramas aspire, and is a genuinely fine piece of drama in its own right. I've already reviewed two other films based on Pulitzer Prize-winning novels, namely Gone With The Wind and A Place in the Sun. The common observation about these two was that neither film had enough of a story to warrant their respective running times: the ideas were either improperly executed or not that nuanced in the first place. Whether through the superior nature of its source, Mulligan's solid approach or the influence of producer Alan J. Pakula (All The President's Men), To Kill A Mockingbird does not suffer the same fate. Horton Foote's screenplay is a great adaptation of Lee's novel, retaining all its unique imagery and rich language while ensuring the story is told in the most efficient and visually intriguing way possible. Just the right amount of time is taken in setting up the lives of our young protagonists: we see Atticus and his children Jem and Scout going about their daily lives, setting up the ease and ethics of their existence before the crime conspires to shatter their world. In short, each movement of the story is accorded as much time as is needed and nothing more. Mulligan's directorial approach is similar in one way to that of Clint Eastwood. Both are at heart steady, nuts-and-bolts directors, interested in getting the job done quickly and telling their given story in the tidiest manner possible. The vast majority of their films tell their stories plainly and logically, and there is very little slack in either the visual or verbal narrative. You'd think that such an approach would dent the subtleties of Lee's book, but in fact it allows them to emerge freely. By being so reluctant to invade stylistically, Mulligan creates a naturalistic environment in which the young actors can produce their great performances. That being said, Mulligan does benefit from assistance elsewhere in his crew. The film is shot by Russell Harlan, who also shot Blackboard Jungle and Witness for the Prosecution. Not only is he at home with the formal settings of the school and the courthouse, but his lighting choices add real tension to the story, particularly in the shadows and shot choices for Boo Radley's house. The film also benefits from a score by Elmer Bernstein, later known for his collaborations with John Landis. His light, cheery themes beautifully underscore the childlike innocence of the opening act; their absence is conspicuous during the later, darker scenes, which become more effective as a result. As a result of these creative decisions, To Kill A Mockingbird is much more tense than you might at first presume. Considering its reputation as a lynchpin of American liberalism, you might regard it as a worthy but overly talky drama, full of big speeches about morality but not enough actual character development. But its moral backbone is only part of the film, since it is also the story of a child's innocence being invaded and ravaged by a dark world of prejudice. One of the great assets of both the book and the film is presenting the action through the eyes of Jem and Scout. Through the early scenes of them playing with Dill, we get to see the world as it appears from their experience, including their own levels of prejudice regarding the children at school. The case that Atticus takes forces them to confront issues about race and injustice long before they are ready or their father would have wanted. We feel both Jem's pain and Scout's heartache at her revelation, in a way that we wouldn't if we saw the film through Atticus' eyes. As for Atticus himself, it's not hard to see why the AFI ranked him as the greatest movie hero of all time in 2003. Atticus is the embodiment of all the values Western civilisation holds dear: justice, decency, freedom and equality before the law. He is unbending in his belief in the power of law and the rights of man, and unlike the heroes of many westerns he does not carry out these beliefs by morally duplicitous means. Gregory Peck thoroughly deserved his Oscar for a role which feeds off his natural grace and authority; even amongst such a glittering career, it remains his finest performance. There is a comparison between this film and A Man For All Seasons. Robert Bolt's original play was written two years before this film came out, and both stories revolve around a tragic hero. Both Atticus and Sir Thomas More are idealists struggling in a world which has abandoned said ideals for the sake of short-term satisfaction, be it power, wealth, status or revenge. The courtroom scene in To Kill A Mockingbird wins out, however, being less stagey and needlessly histrionic than Fred Zinnemann's film. Mulligan uses similar techniques to The Paradine Case (which also starred Peck), using low angles to give the characters more authority over proceedings. To Kill A Mockingbird is a beautifully nuanced examination of prejudice. Rather than needlessly caricature the more red-neck characters, it takes its time to show how ordinary people defy reason, logic, good argument and morality just to satisfy their own convictions. No courtroom drama since has quite captured the heartache of injustice as this film does when Tom Robinson is found guilty despite all the evidence proving his innocence. The long, slow walk that Peck endures, in the presence of all Robinson's supporters, is a heartbreaking image of a man of good faith broken by needless, gutless hatred. To Kill A Mockingbird is a truly great film which still delivers an emotional punch even after all this time. Despite a few scenes which seem tame or creaky by today's standards, the film as a whole has held up immensely well. Peck's performance, and those of the young children, are beautifully complimented by Foote's deft writing and Mulligan's unfussy hand. It is a classic of its time, and essential viewing in ours.
Daniel Mumby
Super Reviewer
To Kill A Mockingbird Quotes
| | |
| --- | --- |
| Atticus Finch: | Heck? Atticus Finch. Someone's been after my children. |
| | |
| --- | --- |
| Jean Louise "Scout" Finch: | Mr Tate was right |
| Jean Louise "Scout" Finch: | Mr Tate was right. |
| Atticus Finch: | What do you mean ? |
| Atticus Finch: | What do you mean? |
| Jean Louise "Scout" Finch: | It would be sort of like shooting a mockingbird, wouldn't it ? |
| | |
| --- | --- |
| Narrator: | Atticus' would be there in Jem's room all night. And he'd be there when Jem waked up in the mornin'. |
| | |
| --- | --- |
| Bob Ewell: | You believe his word agin' ourn? |
Discussion Forum
Discuss To Kill A Mockingbird on our Movie forum!