Tokyo boshoku
(1957)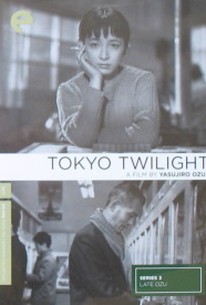 Movie Info
As Yasujiro Ozu's final black-and-white picture, the 1957 Tokyo Twilight explores the emotional landscapes and nuances within a strained Japanese family. Two daughters - Akiko (Ineko Arima) and Takako (Setsuko Hara) - grew up under the sold guardianship of their father, Mr. Sugiyama (Chishu Ryu) after their mother walked out on the family. This created serious psychological problems for both young women that extended well into adulthood: Akiko now spends all of her free time haunting bars and pachinko parlors, looking for her boyfriend, while Takako withdraws from a severely dysfunctional relationship with her alcoholic husband, by whom she has one daughter. In time, Akiko meets a woman who claims to know her as an acquaintance from their childhood neighborhood, and senses that the lady might actually be her mother. This film ventures into slightly darker psychodramatic territory than much of Ozu's work, by courageously dramatizing and exploring issues such as maternal abandonment, broken families and substance abuse.
Critic Reviews for Tokyo boshoku
Audience Reviews for Tokyo boshoku
My second viewing of Tokyo Twilight was on the big screen. I loved it before, now I adore it. The second time allows you to appreciate the film even more, as the pacing is better when you know where it's going. The film focuses on the ever dependable Chishu Ryu. He has raised his two daughters after his wife up and left. His eldest daughter is in an abusive relationship. The youngest has an unexpected pregnancy. And his wife has recently returned to Tokyo. This unexpected return really messes with the youngest daughter who can't accept being an abandoned child. Even when dealing with heartbreaking situations Ozu usually finds some optimism in his stories. Tokyo Twilight is a lot darker. As the title would suggest, it teeters between lightness and darkness, but will eventually become night. Abusive marriages, unexpected pregnancies, family members returning. It's a recipe for great drama and in Ozu's careful fingers, he doesn't descend into melodrama. The film begins with Ryu as the protagonist, but it gradually moves towards the youngest daughter before going to Setsuko Hara. These changes keep the film interesting and allow all the plot elements to come together. His shots are sparse and focused. The music is light but aids each scene. As one woman stares at a child after a difficult decision, it's obvious to know exactly how she feels without any words being spoken, it's great cinema.
Luke Baldock
Super Reviewer
½
truly a beautiful film. the film is so simple that the same material in the hands of most any other director might have seemed pointless, dull, and without direction. in the hands of ozu it was profound, engaging, and more true to life than most other films ever made. this is ozu's gift, no bells and whistles, no fancy effects or rediculous melodrama, just real life on film that almost anyone can relate to. this was ozu's most criticised film upon its release because of the difficult themes of depression, suicide, and abortion, but the people are so genuine that i couldnt help but feel effected. some of the regular ozu cast members return and ryu specifically is becoming one of my favorites. a great film.
[font=Century Gothic]In "Tokyo Twilight," Shukichi Sugiyama(Chishu Ryu) is a bank auditor who lives with his younger daughter, Akiko(Ineko Arima). Joining them on at least a temporary basis is his older daughter, Takato(Setsuko Hara), with her two year old daughter, Michiko. Takato left her husband, Numata(Kinzo Shin), a translator, because of his heavy drinking. Her father promises to have a word with him over her objections. Akiko has problems, too, asking her aunt to borrow 5,000 yen, causing her father and aunt to start thinking about possible matches for her.[/font] [font=Century Gothic][/font] [font=Century Gothic]Directed by Yasujiro Ozu, "Tokyo Twlight" is a powerful and heartbreaking tale that is partially set on the seedier side of Tokyo populated by bars, nightclubs and mahjong parlors. Even the air is occasionally difficult to breathe there. While telling an emotionally resonant story on the surface, beneath it acts as a social critique of society and a warning to parents but it is not dated in any way as it references subjects that are not usually explored in movies 50 years later. Even though I do not agree with its conclusions, I can still think of many reasons to recommend this very fine movie.[/font]
Tokyo boshoku Quotes
There are no approved quotes yet for this movie.
Discussion Forum
Discuss Tokyo boshoku on our Movie forum!