Tom And Jerry Meet Sherlock Holmes
(2010)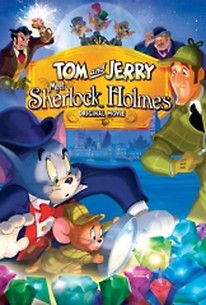 AUDIENCE SCORE
Critic Consensus: No consensus yet.
Tom And Jerry Meet Sherlock Holmes Photos
Movie Info
An all-star cast including Malcolm McDowell, Michael York and John Rhys-Davies voices this animated direct-to-video movie, which brings back two of television's most beloved characters: Tom the Cat and Jerry the Mouse. The story takes place in London, as various jewel heists baffle Scotland Yard, and a beautiful singer named Red gets framed as the culprit. A situation of this magnitude calls for drastic action, and soon the legendary Sherlock Homes hits the beat, with Dr. Watson and Tom and Jerry in tow. But the case grows even more challenging when Tom and Jerry resort to their old crazy tricks and games with one another. Favorite supporting characters from the original Tom and Jerry series also turn up, including Droopy, Butch and Tuffy.
Critic Reviews for Tom And Jerry Meet Sherlock Holmes
All Critics (3) | Fresh (3) | Rotten (0) | DVD (2)
There's a sense that it's trying to tell as story and not just stretch a seven-minute cartoon premise into a short feature.
Spooky story, cartoon violence; too intense for preschoolers.
...it upholds the grand Tom and Jerry tradition of chases and pratfalls.
Audience Reviews for Tom And Jerry Meet Sherlock Holmes
On a bit of a Sherlock high at the moment, so thought this would be a nice change of pace from all the Rathbone action. Surprisingly, this is both a fine Tom and Jerry cartoon and a decent Sherlock Holmes movie. They don't exactly gel seamlessly together. The film has a bit of mystery and then pauses while Tom and Jerry get up to their usual shenanigans before continuing. This means that the mystery is very simple, with a number of jewel heists and a blackmail scheme becoming connected. The voice cast are superb with York and Rhys-Davies channelling Rathbone and Bruce to a T. McDowell also makes for a good Moriarty. Luckily, neither Tom nor Jerry speaks here. Jerry is Holmes' assistant and is his usual cruel self. Tom and Jerry work well together when they have to, but will one up the other if there's a chance. Slapstick is the main comedic ingredient here, and there is no attempt at making it anything special. The animation is very colourful and it really allowed me to just be absorbed by all around it. I particularly liked how they blended Holmes' London with cartoons without ever addressing the fact. Horny wolves, talking dog policemen, and flying cats all live together in this world. Towards the end it did feel a bit rushed, with Holmes just suddenly thinking of the answer because the plot called for it. Moriarty's final plan was a bit silly for such a genius, which is the only real time it betrayed either one of its sources. A good film that should keep most people entertained.
Luke Baldock
Super Reviewer
An hour & 15 minutes of classic Tom & Jerry routines in movie form.If you like Tom & Jerry then youll like this flick.Its definitely 1 of the better Tom & Jerry movies out there
Brody Manson
Super Reviewer
Tom And Jerry Meet Sherlock Holmes Quotes
There are no approved quotes yet for this movie.