Tony Manero
(2009)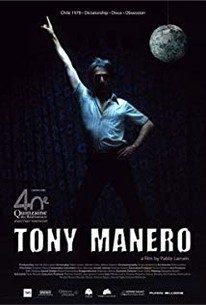 Movie Info
As Augusto Pinochet holds Chile in the grip of dictatorship, a 50-year-old man obsessed with John Travolta's character from Saturday Night Fever imitates his idol each weekend in a small bar on the outskirts of Santiago. Each weekend, Raúl Peralta and his friends -- a devoted group of dancers -- gather in a small bar and act out their favorite scenes from Saturday Night Fever. Raúl longs to become a showbiz superstar, and when the national television announces a Tony Manero impersonating contest it seems like he may finally have a shot at living his dreams. But as Raúl is driven to commit a series of crimes and thefts in order to reproduce his matinee idol's persona, his dancing partners (also underground resistance fighters who rail against the regime) are persecuted by the secret police. ~ Jason Buchanan, Rovi
News & Interviews for Tony Manero
Critic Reviews for Tony Manero
Audience Reviews for Tony Manero
½
A compelling crime drama centered on a miserable sociopath obsessed with a movie character to the point of murder - which makes him also a surprisingly tragic figure -, relying on a gripping performance by Alfredo Castro and also making a subtle political commentary.
Carlos Magalhães
Super Reviewer
½
Raul(Alfredo Castro) is a week early for the Tony Manero look-alike contest at the television studio because this week they are doing Chuck Norris. That's not the only sympton of his obsession as he also goes to see "Saturday Night Fever" every chance he can, plus putting on a show based on the movie. First, he needs a dance floor and even after finding the right material, he needs money. Otherwise, Raul watches an old woman get mugged, helps her home with her groceries, kills her, smokes a cigarette to calm his nerves, feeds the cat and steals her color television set. "Tony Manero" is a disturbing and sexually graphic character study. Raul is so single-minded(Which works against itself since it is difficult to gauge some of the other relationships in the movie at times) that he does not take notice of anything outside of his goal in Chile in 1980 where the police pay more attention to politics than actual crime. Despite Raul's psychosis and his appearing closer to a late model Al Pacino than a young John Travolta, he looks up to and identifies with Tony Manero, in seeing somebody who tries to escape his life of drudgery through dance.(If Raul is angry at "Grease," I don't want to think about how he would react to some of John Travolta's later movies.) In fact, "Tony Manero" and "Saturday Night Fever" both are similar in their critical attitudes about racism.
½
Riveting near mute central performance drives along this dark tale of obsession. Reading the central character's face and hoping things won't go as badly as you fear offer intrigue, and watching the final showdown is unbearably tense. An unheralded treat for those who like their cinema dark and disturbing.
Gordon Anderson
Super Reviewer
Tony Manero Quotes
There are no approved quotes yet for this movie.