Tormented
(1960)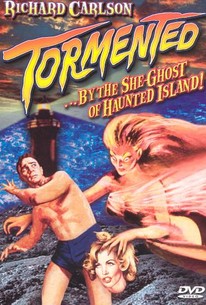 AUDIENCE SCORE
Critic Consensus: No consensus yet.
Movie Info
In this low-budget, campy horror film, a murderous pianist pays for his crime when body parts from the lover he pushed from a lighthouse come back to haunt him just before he is to marry a prominent socialite.
Critic Reviews for Tormented
All Critics (3) | Fresh (2) | Rotten (1)
'She's dead,' muses Richard Carlson. 'She doesn't exist. She's a perfume, she's a footprint, she's a hand, she's a face in a picture...' In other words, she sure is present for something that 'doesn't exist'; isn't that the way 'dead' loves tend to be?
Though it's passable entertainment, the ghost story developments are too ridiculous to be even considered real possibilities.
Bert I. Gordon is most well known for his low-budget 1950s sci-fi pics, but this little seen relic of 1960 is actually one of his better efforts. It is also one of the more entertaining installments of the always enjoyable Mystery Science Theater 3000.
Audience Reviews for Tormented
½
Watching some of the old MST3K episodes available for streaming on Hulu and Netflix (there is a different random selection on each platform). Whether it is Joel or Mike watching these awful movies with the bots I do not envy their torture. Their snarky comments add some entertainment value, but my ratings are based on the movie's quality itself and not the commentary broadcast from the satellite of love. This is one of the better B-movies broadcast on Mystery Science Theater. This Burt I. Gordon production has a satisfying thriller vibe. The performances and special effects are not terrible for a low-budget flick. A man's gorgeous ex, whom he let fall from a lighthouse, comes back to haunt him and prevent him from living happily ever after with his new girlfriend. Achieves some good atmosphere at times.
Byron Brubaker
Super Reviewer
½
In this campy thriller, a man murders his lover so he can marry a wealthy socialite, but his dead lover keeps coming back to haunt him. It's campy but rather fun to say the least.
Sylvester Kuo
Super Reviewer
The story is interesting, but it's hard to get over how bad this movie is otherwise. The actors aren't good, neither is the directing, editing, etc. It's bad, but not too bad to check out if you don't have anything better to do.
Tormented Quotes
There are no approved quotes yet for this movie.