Tormented
(1960)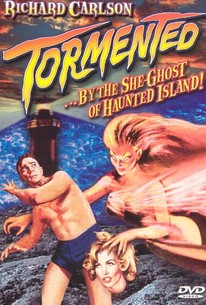 AUDIENCE SCORE
Critic Consensus: No consensus yet.
Movie Info
In this low-budget, campy horror film, a murderous pianist pays for his crime when body parts from the lover he pushed from a lighthouse come back to haunt him just before he is to marry a prominent socialite.
Critic Reviews for Tormented
All Critics (3) | Fresh (2) | Rotten (1)
'She's dead,' muses Richard Carlson. 'She doesn't exist. She's a perfume, she's a footprint, she's a hand, she's a face in a picture...' In other words, she sure is present for something that 'doesn't exist'; isn't that the way 'dead' loves tend to be?
Though it's passable entertainment, the ghost story developments are too ridiculous to be even considered real possibilities.
Bert I. Gordon is most well known for his low-budget 1950s sci-fi pics, but this little seen relic of 1960 is actually one of his better efforts. It is also one of the more entertaining installments of the always enjoyable Mystery Science Theater 3000.
Audience Reviews for Tormented
½
In this campy thriller, a man murders his lover so he can marry a wealthy socialite, but his dead lover keeps coming back to haunt him. It's campy but rather fun to say the least.
Sylvester Kuo
Super Reviewer
The story is interesting, but it's hard to get over how bad this movie is otherwise. The actors aren't good, neither is the directing, editing, etc. It's bad, but not too bad to check out if you don't have anything better to do.
½
Its not often I give a Black & White Movie anything above 3 stars, Its just hard to obtain that status, don't get me wrong, Hitchcock can do it, and there have been a few others, but I don't think Alpha Video has much in there library that gets up in that category. But this movie does. Not what I call a horror movie, more of a suspense type move, that came out in 1960, and back then everyone was competing with Hitchcock and the Sci-Fi boys from Japan, But this movie sparked my interest from start to finish, In a time when Jazz Players were better know as Beatniks and also carried the label as being bad, Tom Steward played by Richard Carson is our Jazz Player, who is going to marry rich girl Sandy Hubbard, who is played by Susan Gordon who in real life is Bert I Gordon's (The Director of this Film)Daughter. Now Susan didn't miss a beat she was an outstanding actress in this movie. Anyway Tom has a little side action on the side who shows up on the Island and he's got to get rid of her, what better way then to take her to the top of the lighthouse to slip off, Tom had a chance to save her but he lets kill two birds (or one Bit*h) with one stone. Well she comes back to haunt Tom. I will not go into details to give the rest away, but if your a Black & White Buff this should be in your collection. 4 1/2 stars easy.
Bruce Bruce
Super Reviewer
Tormented Quotes
There are no approved quotes yet for this movie.
Discussion Forum
Discuss Tormented on our Movie forum!