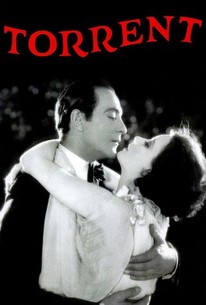 Torrent
1926, Drama, 1h 8m
0 Reviews
100+ Ratings
Rate And Review
Movie Info
Leonora (Greta Garbo) is a pretty young peasant girl living in a small town in Spain. When she falls in love with her landlord's son, Don Rafael (Ricardo Cortez), it draws the anger of Rafael's cruel mother, Dona Bernarda (Martha Mattox), who forbids him to marry someone from a lower class. Leonora moves to Paris shortly thereafter, where she becomes a famous opera singer. Upon her return, Don Rafael, now an important politician, attempts to rekindle the romance, but Leonora is hesitant.
Cast & Crew



Lillian Leighton

Isabella

Show all Cast & Crew
There are no critic reviews yet for Torrent. Keep checking Rotten Tomatoes for updates!
Audience Reviews for Torrent
Garbo radiates star quality and looks astonishing in most of the extreme fashions she finds herself in. As for the film it's just another soap opera.

1926 "torrent" is divine greta garbo's american debute starring the soon to be unknown ricardo cortez (the first sam spade in 1930 maltese falcon), despite louis b mayber's dimissive criticism of garbo as "tall, chulky peasant," garbo still shimmers without adrian's endorsements of glamour until her later cooperation with john gilbert in "flesh and the devil" which catapults garbo into the niche of aboslute seductress in silent cinema. there're some vividly binary conceptualization abound in the early cinema, and the dichotomy of madonna/whore thrives in this primtivee stage of cinema to resonate the stark vision without vocal expressions. garbo plays a ghetto girl abandoned by some spanish peasant due to his mother's disapproval. somehow stimulated by the man's cowardice, garbo re-embodies herself into the parisian prima donna surrounded by numerous patrons. melodramaticity is something which circumvents the silent cinema as nowaday audience could easily predict the following plots. later the prima donna decides to return her hometown village then she rekindles her torch of passion with her first love during one incident of local hurricane. under the pouring rain, the symbol for the torrent of passion, the lovers re-unite together and whisper their tender language of love. of course, the story wouldn't end like fairy tale because the vampy temptress cannot be dignified due to the dichotomy of feminity, and she must be incarnated into a sardonic mockery of conventional womanhood. what happens is that the man's mother schemes to estrange her son from this femme fatale by coering bitter words to the man like "she's the woman who has been owned by many men and you would be the laughing stock of europe"...so the man deserts the woman again due to his manly pride as well as a moralistic string of female chastity, but years later, they meet again while he's been aging into a grey-haired saggy man but she still remains her prime looks of youth. eventually it is her turn to discard him away with an avenging sneer to the bond of matromony. richardo cortez fades away after this movie with garbo who literily monopolizes the spotlight as an illuminator at stance. "torrent" demonstrates greta garbo's great potentiality as the screen goddess and in every scene she shines with an iceberg insouciance, but each gaze is smoldering with simmering passion.
See Details