Torrente: Mission in Marbella
(2001)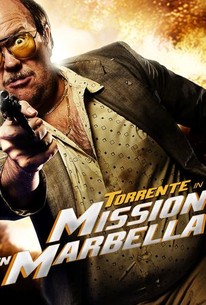 AUDIENCE SCORE
Critic Consensus: No consensus yet.
Torrente: Mission in Marbella Photos
Movie Info
Torrente, the thick-headed cop from the successful Spanish comedy Torrente, el brazo tonto de la ley, is back on the beat in this sequel, which actually outdoes the low comedy of the first film. In his second go-round, Torrente (once again played by Santiago Segura, who also wrote and directed the film) has managed to squander his savings while enjoying life (and chasing women) in the resort town of Marbella, so he goes back to work, finding employment as a private detective, with dope-addled ne'er-do-well Cuco (Gabino Diego) signing on as his assistant. Through a series of misunderstandings, Torrente ends up crossing paths with Spinelli (Jose Luis Moreno), a corrupt international arms dealer, and when Spinelli threatens to blow up Marbella unless he receives a ransom of two billion pesetas, the bumbling skirt-chaser becomes the only man who can prevent the destruction. Torrente 2: Mision En Marbella features cameo appearances from a number of popular Spanish comics and television personalities; the first film was one of the biggest grossing homegrown features ever in Spain, and the sequel's box-office success led many to predict Torrente could become the subject of a long-running series.
Critic Reviews for Torrente: Mission in Marbella
There are no critic reviews yet for Torrente: Mission in Marbella. Keep checking Rotten Tomatoes for updates!
Audience Reviews for Torrente: Mission in Marbella
½
While I appreciate the fact that the film's eponymous character is an incredibly unlikable, sexist, racist, detestable man, this film just simply isn't very good. Don't let Santiago Segura hear this cause he'll go off on a rant, as he has on film critics in Spain who've slammed every sequel in this series. While I've watched many films from Spain, I'm unfamiliar with who is a celebrity and who isn't, since I'm unfamiliar with that culture, but it seems, from everything I've read, that this film has a cavalcade of celebrity cameos, mostly Santiago's own friends. In a way, he's Spain's equivalent of Adam Sandler. With that said, the film does have its highlights, some of Torrente's jokes are inappropriate but funny. I just think that insults in spanish, particularly from Spain, are just funnier than insults in english. So some of his insults, particularly to the kid in the wheelchair, were more amusing than truly funny. Puerile and crass humor are the order of the day, so don't come in expecting intellectual jokes. One of the things I did like, however, was how totally ineffective Torrente was as a detective. This is a man who's not even aware of the main story until 15 minutes before the film is over. He's a fool and a completely worthless excuse for private detective. I think that's about it for the positives, oh and Santiago Segura is good as Torrente. But try as he might, he simply can't overcome the film's horrible scripting. This is a James Bond parody made by high school teenagers...and I don't mean that as a positive, if you couldn't tell. It's just so low-brow and ineffective. Not to mention incredibly cheap-looking too. There movie just feels cheap. Like it was made on a shoestring budget over a weekend with no real script, they just improved a story. And apparently the next movie is worst than this one in that regard, since it just feels like a series of sketches, so I don't even know. It's really perplexing to know that this film, until The Others came along, was the most successful film in the history of cinema in Spain. And this is coming from someone who thinks that Spanish filmmakers make incredible movies, so I can't believe that this piece of trash, which is something that I think Segura himself would be proud of, was actually the most successful film in its history, until a certain point. With that said, the film will certainly piss off people. Torrente makes no qualm about being detestable. But even if you enjoy puerile humor, I doubt you'd find much to enjoy here. A few highlights here don't make this film worth watching. I don't know why I'm going to put myself through this, but I'll eventually watch all the other films in the series, minus the 5th one which just came out last month, as they are available on Netflix. I could be in for a rough ride, so wish me luck. Oh and don't watch this, trust me.
Jesse Ortega
Super Reviewer
Torrente: Mission in Marbella Quotes
There are no approved quotes yet for this movie.