Tout va bien
(1973)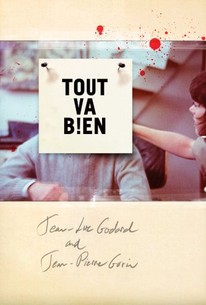 Tout va bien Photos
Movie Info
After collaborating on a series of small-scale political films under the alias of the Dziga Vertov Group, pioneering French director Jean-Luc Godard and filmmaker and activist Jean-Pierre Gorin attempted to fuse their Maoist theories of revolutionary art with a more accessible structural framework in this leftist comedy drama. Susan (Jane Fonda) is an American journalist working as a French correspondent for a radio network; her husband, Jacques (Yves Montand), was once a major filmmaker during the French New Wave, but now supports himself directing television commercials as he tries to come to terms with his political responsibilities. Jacques tags along when Susan visits a sausage factory to interview the manager (Vittorio Caprioli); their visit unexpectedly coincides with a wildcat strike staged by the plant's employees, who hold the boss captive as they lash out against both their employers and their union in a bid for more money and greater dignity. Over the course of the day, many of the participants speak to the camera about their varying degrees of commitment to radical political and economic change, while we are also afforded an inside look at Susan and Jacques' splintered relationship. Shortly after Tout Va Bien was released, Jane Fonda made her famous (or infamous, depending on your perspective) visit to Hanoi, an action which led Godard and Gorin to create a companion film, Letter to Jane, in which they dissected a photo of Fonda in Vietnam for its multiple levels of political meaning.
Rating:
NR
Genre:
, ,
Directed By:
Written By:
In Theaters:
On DVD:
Runtime:
Studio:
Criterion Collection
Cast
Critic Reviews for Tout va bien
Audience Reviews for Tout va bien
½
Nothing better exemplifies the political tension and ardent socio-economic climates of the French political sphere than a seventies Godard film starring Jane Fonda. "Tout Va Bien" is a film that delves into the rebel assumptions of the latest French generation, and works in "revolutionary art". The film concerns the revolt of a factory, the discipline of the structures of mainstream film, and began Godard's credibility as a mainstream artist. This film deals with two separate story arcs, and two separate issues. One is the revolutionist stance of the people, and fighting the powers that be in large and caustic ways. In the course of the film several characters are interviewed by Fonda's character, who is an American journalist. They speak about the variance of their involvement in a strike on a sausage factory, where Fonda and Yves Montand (portrayed as an at-odds married couple) are being held against their will, along with the plant manager. The plant revolt is the biggest part of the film, and lent to the famous multiple room shot in the factory, which showed the plant manager's office as well as the outside offices of the rest of the employees. The other part of the plot deals with Fonda and Montand (named She and He in the film) and their fragmented marriage. Both of them have deep psychological wanderings and speak to each other about the state of their lives. Particularly, Montand yearns to be back making French New Wave films, as he had done in the sixties, though he now makes commercials. Montand finds his new pursuit pointless and wishes to be back in the fray of artistic freedom, mostly because he sees himself now as a sellout. Spurred by the witnessing of the revolt and his own crumbling marriage, Montand watches as rebellion reaches the streets of France's metropolis' and we the audience watch as leftist views launch riots, and start a conversation long abated, and speaks on small changes you can make in your own life. It wasn't a revolutionary film by any means, but it led to skepticism from the masses and became a conversation starter.
Spencer S.
Super Reviewer
Godard seems angry (lol).
Graham Jones
Super Reviewer
Incredibly dense, and, as I've heard it described, anti-film in the way it's shot. Utterly displeasing and a labor to watch.
Connor Groat
Discussion Forum
Discuss Tout va bien on our Movie forum!
News & Features