The Town Is Quiet (La Ville est tranquille)
(2001)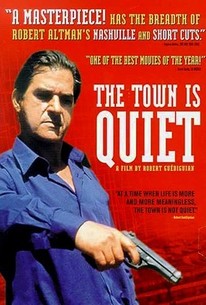 Movie Info
Set within a working class milieu, the paths of many Marseille locals converge on a journey through the lives and daily struggles of a group of its inhabitants. At the center is Michele, a hardworking fishmonger, who supports an entire family. After putting in backbreaking hours, she must return home to a sullen husband and a daughter fighting a debilitating drug abuse. Michele commits to raising her baby granddaughter while her daughter battles heroin addiction. Reduced to selling her own body to pay for her daughter1s fixes, Michele meets Paul, a lonely former dockworker who now drives a gypsy cab. The heroin is provided by Michele1s former boyfriend Gerard who runs a small bar but has a secret second life. We also meet Abderamane, a young North African, recently out of prison and now looking for a way to make his mark on the world. He begins an affair with his former music teacher, Viviane, who can no longer bear the hypocrisy of her womanizing, pseudo-liberal husband.
Rating:
NR
Genre:
,
Directed By:
Written By:
In Theaters:
On DVD:
Runtime:
Studio:
Diaphana Distribution
Critic Reviews for The Town Is Quiet (La Ville est tranquille)
Audience Reviews for The Town Is Quiet (La Ville est tranquille)
[url="http://www.rottentomatoes.com/m/town_is_quiet/dvd.php?select=2"][img]http://images.rottentomatoes.com/images/movie/coverv/43/204543.jpg[/img][/url] Not for me. Boring. Too political. Attempts at too much reality. Uneven. Disjointed. Sickening in a bad way.
M Sarki
[font=Verdana]The Town is Quiet (2001) 8/10:fresh: [img]http://www.frenchculture.org/cinema/pix/guediguiantowndvd180.jpg[/img] Robert Guediguian's [i]The Town is Quiet [/i]is a powerful and well-made look at the different social classes in Marseilles. The film opens with a 360[font=Verdana]°[/font] shot of the city, showing that we are going to see this place from all different angles. This is an ensemble piece, filled with characters from all different walks of life. At the film's center is Michele, a woman who works all night in a fish market, only to come home to her unemployed husband, heroin-addicted daughter, and neglected granddaughter. There is also Paul. Paul is former dockworker who is tired of all the strikes, so he decides to get a job driving a taxi. Next, there's Gerard, a bar owner with connections to the criminal world. Finally, there is Vivian, an unhappily married music teacher who starts an affair with an young, African ex-con. We witness the lives of these very different people start to come together, and eventually, intersect. [img]http://www.filmlinc.com/archive/programs/3-2001/jpegs/lavillec.jpg[/img] The story was hard to follow at times, but this might have had a lot to do with the fact that the DVD subtitles were missing at times. I am also sure that I missed some of the underlying political messages of the film, because I am not very familiar with the politics of Marseilles. But those problems still didn't take away from the power of the film. I don't want to ruin some of the more disturbing plot points, because that might take away from some of the film's power. Seek it out. [/font]
John Mimnall