Treeless Mountain
(2009)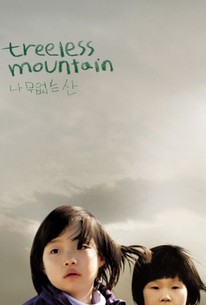 TOMATOMETER
AUDIENCE SCORE
Critic Consensus: Intermittently wondrous and harsh, this sensitive drama about two abandoned sisters gives time and space to the intimate and beautiful moments of childhood.
Movie Info
A portrait of a young girl coming to terms with loss and abandonment, Six-year-old Jin and her younger sister Bin live on the edge of disaster, but they are not aware of it. In the small apartment where they reside with their single mother, the menacing sounds of the outer world disturb their precarious cocoon. One day, their mother packs all their belongings. For Jin, the days of going to school are over. Mommy is gone, leaving her and Bin in a hostile home with their alcoholic Big Aunt and a piggy bank to slowly fill with coins. Once the bank is full, their mother will be back.
News & Interviews for Treeless Mountain
Critic Reviews for Treeless Mountain
Audience Reviews for Treeless Mountain
Draws a lotta comparisons with "Where the Wild Things Are" except much more grim and less chaotic. "Treeless Mountain"'s a super slow burn, and I mean, REAL slow. I'm okay with pacing that is patient but when there are very little developments over the course of an hour, it becomes an issue. However, just like "Where the Wild Things Are" its an outstandingly realistic portrayal of children during times of emotional trauma. The acting's incredibly believable. Half way through, I thought to myself, "Are these kids really acting? Did the filmmakers raise these two kids to undergo the same exact nurture as they are throughout the course of the film and just shoot snippets of their real life?" Hee Yeon Kim, the older sister, does a phenomenal job ...and she's only 6. Take some notes Hayden Christiansen. Because these are very young children, there's hardly any dialogue spoken to express their emotions but yet, we see the utter pain of betrayal and loneliness in Hee Yeon Kim's eyes; your heart'll brighten up when you see her crack a smile from the simplistic joys of life; you'll see her gaze harden up against the world to not get hurt again -- all through her transparent eyes of innocence. So obviously, the film rightfully focuses almost 90% of the camerawork on face-shots of these two children -- this is no exaggeration. The children may be in a setting where there's a lot of movement, people talking about important issues, and people working and fighting that is rightfully a life-changing element for these children, but the camera ceases to ease its focus off of these two children. And during all of this, we see symbolism left and right, neatly tying this in a neat package. For these reasons, "Treeless Mountain" works wonderfully, but it all comes crashing down due to its extremely poor pacing and the lack of true interest throughout the course of the narrative. Don't get me wrong -- by the end of the movie, the narrative had a strong, rigid grip on me, but between the heartbreaking introduction and the ending, it was a sharp character study with EXTREMELY minimal advances in the storytelling department. There IS substance, but not enough plot elements to keep this movie engaging throughout. It's sort of like "Tree of Life": It captures many of the candid and unexpected moments of everyday childhood and so, handpicking out each individual scene doesn't help explain the narrative at ALL. But how the movie works is when the viewer looks at a single scene through the collection of knowledge accumulated by the viewer's observation of previous scenes which showcased these children's everyday behavior. It's clever and helps the viewers dig into the emotional turmoil of these hearts, but it results in an uninteresting, almost repetitive narrative. I'm not saying I want an explosion every two seconds -- I'm saying that some of these scenes involve these kids, at one moment, drawing something in their notebook, and the other moment, them hand-washing their clothing; it makes it a rather, somewhat, repetitive film. Also, there seems to be a lacking quality in this film that's apparently found in many other movies, but I can't seem to put my finger on it. What do I mean? It's a good movie, but with such a premise like this with such raw emotions spewing from its excellent cast, it could've been a masterpiece but there's a lacking in its execution -- I'm just not sure how to pinpoint it. "Treeless Mountain" does a lot of things right, but it's perhaps too quiet, too simplistic, and too linear. With such an avid execution of children and their approaches to their struggles, there is surprisingly much more to be desired for. Maybe this film wasn't for me. Even as I type out this review, I see there are many more things to appreciate about "Treeless Mountain", but there needs to be a little more "oomph" in the package -- and I'm not just talking about the pacing; I'm talking about the entire film itself. "Treeless Mountain" is one of those movies where watching the movie is an okay experience, but afterwards, you're able to talk about it and remember it for days. Hey, 3 stars is good in my book and is still recommended a viewing, yet it's definitely an acquired taste.
Albert Kim
Super Reviewer
½
Lovely little movie. Is it a quiet and subtle type of storytelling? Yes. Does that mean it's boring? No, some of you WILL be bored by the movie but I don't think you can say it's bad. The thing is, the movie is told from the perspective of these two little girls and how they react to being put in a situation where they have to grow up almost instantly and learn to survive in the world. That's really what the movie is about more than anything else. It's not like there's a real story or 'plot', it's seeing how these girls adapt to their situation. And like I said, it's really a lovely movie. Beautiful, yet sad. And the girls are pretty fantastic. You just can't fake being a child and their performances felt very natural. Thing is, and I've said this before, at a certain age, you just can't expect a child to do everything you tell them to do. And when you do, the performance ends up being shit. When you let the kid be a kid, then that's where you get greatness. For example, the younger sister is at that age where you couldn't tell her to do shit and actually expect her to do it. And that's the strength of the movie, the performances from the girls are natural and you don't get to see this type of movie often, so it's great when the movie ends up being good. Anyway, excellent movie with some very lovely moments.
Jesse Ortega
Super Reviewer
Jin's (Hee Yeon Kim) and Bin's (Kim Song Hee) acting looked so natural that made me think whether they were aware of the camera in front of them. I wouldn't say this was awesome. The story was good. Acting was great (as I've mentioned that already). But it was slow. Made it looked longer than usual. There was a hint of boring-ness in it. I kinda liked it. But wouldn't watch it again.
Dead Angel
Super Reviewer
Treeless Mountain Quotes
There are no approved quotes yet for this movie.