Tremors 3 - Back to Perfection
(2001)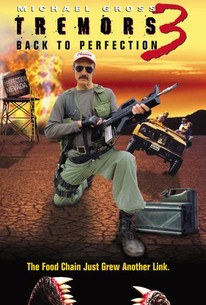 Tremors 3 - Back to Perfection Photos
Movie Info
It's back to Perfection, NV, for munitions-crazed Graboid hunter Burt Gummer (Michael Gross), who has made a career out of chasing and slaying the burrowing "sub-terrestrial" creatures that pop out of the ground and eat whomever happens to be standing there. This time Gummer is assisted by wisecracking cowboy Jack Sawyer (Shawn Christian), who runs a shabby theme park based on the critters, and Jodi Chang (Susan Chuang), whose convenience store is unfortunately at Graboid Ground Zero. Gummer and company have their hands full this time, when the oversized worms have mutated to a new state -- not only do they burrow, but they have wings and can fly like carnivorous dragons. Does Gummer have enough shells in his artillery cannons to knock them all from the sky? ~ Buzz McClain, Rovi
Critic Reviews for Tremors 3 - Back to Perfection
Audience Reviews for Tremors 3 - Back to Perfection
We're heading back to Perfection, Nevada. That's right another Tremors movie....and it's the weakest in the series. The opening scene with Burt Gummer (Badass of the day, just saying) was promising enough, but the rest of the movie just goes downhill. Since it's back to Perfection in this one it means some characters/actors from the first Tremors movie. Ariana Richards returns as a now teenage Mindy and Tony Genaro reprises his role as Miguel. (Ironically, he looks as if he hasn't aged a day.) Shawn Christian plays a complete douchebag con artist trying to make money off the sudden popularity of the Graboids and Susan Chuang plays....an asian lady with almost no personality. So the Graboids are back in Perfection and Burt and his friends are trying to track down the already evolved ones. However, they evolve into another creature and it's made of CGI. Why? Puppetry worked just fine in the first two movies, so why resort to an unnecessary usage of CGI? I just prefer animatronics because when you're actually filming something that's physically in front of the camera, it makes for more charm to the creative process. The script for this film seemed kind of weak too. Something about it felt lazy. In the end, the characters weren't as fun to watch, the CGI bugged me, the writing felt choppy and while it had some laughs and creatvity, it didn't even hold a candle to Tremors.
Tyler Robertson
Super Reviewer
The Food Chain Just Grew Another Link. Oh geez.. They should have done only the first two, this was a freaking crappy sequel and the special effects were just so fake, the story just suck and the characters barely impressed. I expect Tremors 4 to be exactly the same.. can't wait ja.. Burt Gummer returns home to Perfection, Nevada, from a trip to Argentina, where he wiped out a herd of Shriekers. Things are a little different in Perfection now -- the community has become something of a tourist attraction because of a battle against Graboids about 11 years ago. Nancy Sterngood and her 22-year-old daughter Mindy still live in Perfection. Burt's friend Miguel still calls Perfection home. Obnoxious Melvin Plug has moved into real estate, and he is now trying to build homes in Perfection. There are even Graboid comic books on the racks, and Safari Jack Sawyer takes families out on phony Graboid hunts for a few bucks. Burt's pretty disgusted by the whole thing. The Graboids haven't surfaced in Perfection since the battle from 11 years ago, but that hasn't kept Burt from slacking off. His home is like a fort, completely Graboid proof and Shrieker proof. But after 11 years, the Graboids and Shriekers have returned, but this time there's trouble. Government officials show up to protect the monsters, because Graboids are an endangered species. To further complicate things, the Shriekers evolve into a new kind of flying creature that can sense body warmth in much the same way the Shriekers can, and local store owner Jodi Chang, the niece of the late Walter Chang, calls them Ass Blasters. Burt unloads his arsenal of weapons to use against the monsters, and Jack and Jodi team up with him. But since these creatures can fly, and are each carrying a Graboid egg inside of it, Burt, Jack, and Jodi are going to have to watch every single step they take if they are going to stay alive long enough to stop the monsters.
Even though this is the weakest entry in the series, It's still in it's on way, a decent film. However It seemed that by this point, the Film makers ran out of ideas, and tried to hard to make an new idea work. I found myself not liking this film as much as the first 2. When I finished watching the film, I had mixed feelings about it. I thought they could have done a better job. Michael Gross was in a lack of a better word, Irritating by this point in the series, I sometimes cringed when he would say something on screen. If your looking for the weakest Link in the food chain, this film is it. But for all it's flaws, Tremors 3: Back To perfection is decent enough for the viewer to be entertained.
Tremors 3 - Back to Perfection Quotes
There are no approved quotes yet for this movie.