Procès de Jeanne d'Arc (Trial of Joan of Arc)
(1962)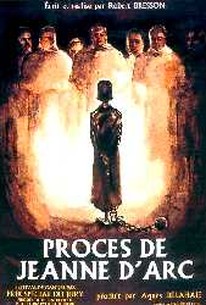 Procès de Jeanne d'Arc (Trial of Joan of Arc) Photos
Movie Info
Characteristically breaking with tradition, director Robert Bresson presents a realistic, unique view of the life and death of Joan of Arc. Using a script based on the actual transcript notes taken during her trial, Bresson focuses on the psychological and physical torture that Joan had to endure, showing how these techniques were used to break her resolve and cause her to eventually recant her faith. With impeccable historical accuracy Bresson re-creates the story of the peasant girl who, after leading an unsuccessful revolt against the government, was brought to trial, convicted of heresy, and burned as a witch. However, Bresson shows Joan (Florence Carrez) as a woman more sophisticated and calculating and less naive than she has normally been represented. His Joan, while more real, is no less heroic than the traditional Joan. This unusual approach is characteristic of this unique director who defies classification as either a traditional or "new wave" filmmaker while being highly respected for pursuing his own individual style and vision. Robert Bresson has been called a poet and philosopher with a camera, preoccupied with the idea of predestination and spiritual grace. In Proces de Jeanne d'Arc, as with all of his films, Bresson imprints his own personal signature. The film is tightly constructed and stripped to the bare essence of the material. Bresson has made only a handful of feature films, yet he is one of the most discussed and revered figures in cinema, creative, original and unique. ~ Linda Rasmussen, Rovi
Rating:
NR
Genre:
,
Directed By:
Written By:
In Theaters:
Runtime:
Studio:
Criterion Collection
Cast
Critic Reviews for Procès de Jeanne d'Arc (Trial of Joan of Arc)
Audience Reviews for Procès de Jeanne d'Arc (Trial of Joan of Arc)
I didn't know a word about this case before plunging onto this movie. As against my expectations, my ignorance didn't turn out to be in the favor of movie. It assumes that we have the background knowledge and focuses only on trial. Maybe people in general have enough historical knowledge, but unfortunately I'm an exceptional case. I thought that the movie would be interesting as it's based on the transcripts of the case, but except for a few dialogues, it was quiet boring. Even 65 minutes seemed too long to sit through. I appreciate the director's intentions, but not much the film. Needless to say, it serves as an informative piece of work to an extent, but not entertainment.
familiar stranger
Super Reviewer
This Robert Bresson film is reportedly taken from the transcripts from the Joan of Arc's trial. And it's a well-done film that suffers from one major flaw -- I saw Karl Dreyer's version of Joan's story PASSION OF JOAN OF ARC first. Florence Carrez portrays Joan with stoic determination. She knows she's right and no one will change her mind. Because of this portrayal, the scene where Joan signs the confession riings a bit false. On the other hand, Renee Maria Falconetti's portrayal is of a terrified 19-year-old girl, being held in prison for her beliefs that seem so right and true to her, and totally unable to comprehend how and why she is being portrayed as evil, when everything she does is for God and her country. Her performance is heartbreaking. Carrez' in-your-face attitude is probably more historically accurate -- Joan WAS a warrior after all -- but I like Falconetti better. And I just like Dreyer better as a director than Bresson. Bresson's direction is spare and minimalist, and it leaves me a bit cold. Dreyer's work never fails to move me, especially in the way he gets such real emotion out of his actors. I'll admit to being brought to tears by more than one of his films. Bresson claims that he made his Joan more of a modern 1960's woman so younger people would identify with her, He gave her a somewhat modern hairstyle and wardrobe. Once again, I prefer Dreyer's Joan, who was even stripped of her hair for the role. One good thing about seeing both films is that I now have a bigger picture of what Joan went through during her trial. Dreyer also used the original transcripts, and the dialogue reflects that, matching word for word in several places. But in many cases they concentrated on different sections of the transcriptions, so seeing Bresson's film filled in the gaps from the Dreyer film.
Bresson's stripped-down style is in full effect here, complete with his famous close-ups of feet and attention to manual processes. The obvious comparison to make is The Passion of Joan of Arc. Dreyer's film has an undeniable beauty to it, but as a fan of Bresson's austerity, I have to give his version the edge. I greatly prefer Delay's performance to Falconetti's. Delay brings a dignity and a genuine piety to the role, where Falconetti just makes her seem like an unstable nutball.
Martin Teller
Discussion Forum
Discuss Procès de Jeanne d'Arc (Trial of Joan of Arc) on our Movie forum!
News & Features