The Trip to Bountiful
(1985)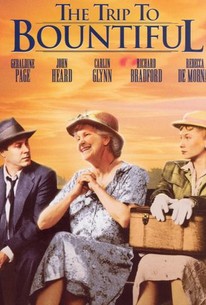 The Trip to Bountiful Photos
Movie Info
Adapted by Horton Foote from his own television play, A Trip to Bountiful is set in 1947 Houston. Forced by circumstances to leave her loathsome son (John Heard) and daughter-in-law (Carlin Glynn), elderly Geraldine Page wants nothing more out of life than to return to her home town of Bountiful. Escaping from her family's clutches, Page boards a bus to Bountiful, where she makes the acquaintance of young Rebecca DeMornay. The two women immediately hit it off, and their trip is a most pleasant one. Eventually, sheriff Richard Bradford, ordered to find Page and bring her back to her family, catches up with the old woman just 12 miles from Bountiful. Feeling sorry for Page, Bradford permits her to complete her sentimental journey, even though he knows full well that Bountiful is now a ghost town of empty ruins and dilapidated shacks. It doesn't matter, though: Page sees Bountiful just as it was when she left it, and for the first time in years she is truly happy and at peace with herself. After several near-misses, Geraldine Page finally won an Academy Award for A Trip to Bountiful (incidentally, the original TV production, which still exists in kinescope form, starred Lillian Gish and Eva Marie Saint).
News & Interviews for The Trip to Bountiful
Critic Reviews for The Trip to Bountiful
All Critics (8) | Top Critics (2) | Fresh (8) | Rotten (0)
The cast is marvelously filled out with John Heard as Ludie and Carlin Glynn as Jessie Mae As an ensemble it is as fine a cast as one could want.
In this small, sharply observed tale from Horton Foote, the great Geraldine Page plays an elderly widow, who longs to go back to her idyllic small-town roots; shapeless, the film is mostly a showcase for its actors.
Revolves around the yearning an elderly woman has to visit the farmstead where she grew up and raised her own family.
Audience Reviews for The Trip to Bountiful
An enjoyable story about an old bag who decides to leave her unrewarding life to go back to the town where she grew up. The main issue is the fact that the town may no longer exist. Sentimental but sweet.
John Ballantine
Super Reviewer
½
Geraldine Page is exquisite!
Randy Tippy
Super Reviewer
Geraldine Page proves why she was one of the preeminent actress of her time in this lovely, poignant film.
The Trip to Bountiful Quotes
There are no approved quotes yet for this movie.