Triple 9
(2016)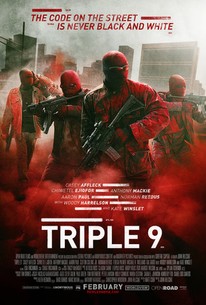 TOMATOMETER
AUDIENCE SCORE
Critic Consensus: Triple 9's pulpy potboiler thrills don't quite live up to the ferocious talents of its cast, but the film's efficient, solidly crafted genre fun is often enough to balance its troublesome flaws.
Movie Info
In TRIPLE NINE, a crew of dirty cops is blackmailed by the Russian mob to execute a virtually impossible heist and the only way to pull it off is to manufacture a 999, police code for "officer down." Their plan is turned upside down when the unsuspecting rookie they set up to die foils the attack, triggering a breakneck action-packed finale tangled with double-crosses, greed and revenge. (C) Open Road Films
News & Interviews for Triple 9
Critic Reviews for Triple 9
Audience Reviews for Triple 9
½
An okay movie with some very impressive visual flourishes, but a narrative mess, and not up to par with Director Joh Hillcoat's prior work.
½
Good trailers can do wonders for a film at the box office. When a film has a good trailer and it does not live up to those expectations, or it has mislead you, that is probably more disappointing than a bad film in general. Triple 9's trailer, for me, will go down in history as one of the most misleading of all time. With such an action-packed and brutal trailer, it made it seem like a film that was trying to mirror or borrow aspects from something like The Town, but that is surely not the case. In one of the most boring attempts to create a compelling story, here are my thoughts on why I believe Triple 9 is below average, even without thinking about its terrible marketing. In the first act, Triple 9 is presented as a film that follows a group of bank robbers. Some being crooked cops and some being criminals, the character dynamic seemed like one that was going to play out very well throughout the duration of this film. Sadly, this film is really about a group of bad men, doing bad things, trying not to get caught, while they go about their lives. While that can be interesting all in itself, the film jumps around far too quickly between characters to really begin to feel anything for them. In a film like this, you need someone to latch onto in order to root for, otherwise it may just put you to sleep. That is exactly the word I would use to describe this film, tiring. Confused with itself, there is absolutely nothing compelling about any of the events in Triple 9. Beginning as a full-throttle bank robbery from the vault to the streets, the best part of the film is their very first job. To be honest, I was quite impressed by this opening sequence, but it very quickly ends, leaving viewers wanting more. The thing that eventually becomes frustrating is the fact that it never once becomes exciting again. Any moments of excitement that followed, involved gruesome deaths or drawn-out and slowly paced chase scenes. By the end of this film, I had no desire to root for anyone to stay alive. This is a film about terrible people doing terrible things, and nobody really has any moments of redemption. It is actually pretty depressing when looking back on it. Warning: Spoilers in the next paragraph. While I didn't find myself particularly caring about any of these characters, I was at least hoping for a turning point, or for at least one character to be redeemed. The third act of this film finds each character picking each other off until there are no bad guys left. So in the end, this film is about a group of bad guys, doing bad things, and then they all die. This felt like a slap in the face to even the most loving fans of this picture. I found myself appalled, thinking that I wasted two hours on a film that I had actually been excited to see. There is really nothing more to call this film, other than disappointing and misleading. The film already does a bad job in setting up compelling characters, but when almost every side character is deemed useless once the credits role, you almost feel robbed yourself, as an audience member. If that was their intention, job well done, but I have a feeling that it was not. In the end, Triple 9 borrows from many other films in its genre, never expanding, nor making you care. This is a thinly written film, directed sloppily, and jarringly edited from beginning to end. It benefits from a stellar cast, but even with that addition, it can't hold itself up. I was genuinely excited to see this film, because I believed its trailer to be very promising. Triple 9 is one of the worst films of 2016.
A great cast duke it out in this standard issue heist film, the cops against the crooks, the twist being that some of the cops are the crooks. A good time at the movies. Quality product delivered by an all pro staff. And Kate Winslet becomes the actress I most like to be stranded in a blizzard with.
Kevin M. Williams
Super Reviewer
Discussion Forum
Discuss Triple 9 on our Movie forum!