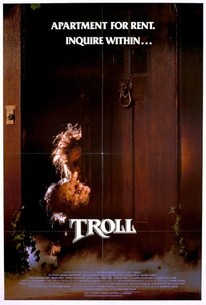 Troll
1986, Fantasy/Comedy, 1h 26m
10 Reviews
5,000+ Ratings
Where to watch
Rent/buy
Rent/buy
Rent/buy
Rate And Review
Movie Info
In order to get his life back as a wizard, Torok the troll plans to take over an apartment building. His first step is to possess young Wendy Potter (Jennifer Beck). Her brother, Harry (Noah Hathaway), is the only one who suspects something is wrong. Fortunately, neighbor Eunice St. Clair (June Lockhart) is a witch and not only believes Harry but also agrees to help him. Meanwhile, as Torok, Wendy starts transforming other building tenants into mythical creatures, and only Harry can stop him.
Rating: PG-13

Genre: Fantasy, Comedy, Horror

Original Language: English

Director: John Carl Buechler

Release Date (Theaters): limited

Release Date (Streaming):

Box Office (Gross USA): $4.5M

Runtime:

Sound Mix: Surround
News & Interviews for Troll
Audience Reviews for Troll
A comically bad B-horror movie, Troll is incredibly bizarre. The story is unbelievably stupid, and follows a mischievous troll who disguises himself as a little girl who goes around an apartment complex transforming the tenants into trolls. Jenny Beck is surprisingly good for a child actress, but the rest of the cast is awful. And the costume designs and troll puppets are extremely cartoonish; which undercuts the horror. Troll is a cheesy, low-budget film that's poorly made, and it doesn't deliver any scares.

Troll 2 is consider to be the worst movie ever made, but before I watch that I decided to checkout the original. While as famous as it's sequel, this predecessor fails to entertain in any level. Troll is about a wicked troll king in search of a mystical ring that will return him to his human form invades a San Francisco apartment complex where a powerful witch lives. Now this movie has a whole of lot nothing happening on screen and what's worst it that it takes place in one uninteresting location. It has boring characters, pointless moments, and is dull throughout its duration. Though what's most baffling is that our main characters is Harry Potter Jr. That's right, this movie main characters is in the Potter family, guess the after years of Hogwarts weren't as magical. Now to this movie credit it does contains a pretty pointless scene where trolls are singing and midget getting transformed into an elf. The effects here aren't any good, but they're done by hands and not by computers which I come to appreciate since Hollywood over reliance on CGI. The acting is not worth mentioning, it's passable, but not as comedic as it sequel when it comes to bad acting. I would talk more about this movie, but it's so underwhelming and feels so lazy in execution that it left no impact on me. Troll is not worth watching, it's lazy, unimaginative, and most important of all dull. You're better off checking its infamous sequel for its comedic value.

Troll really isn't half-bad. If I'd seen it when I was 7, it probably would have become one of my favorite movies. A family moves into a building and some evil replicant troll in the basement takes over their daughter's body. From then the Troll starts to assimilate the other neighbours in a scheme that turns out to be some sort of bid for power, according to the mysterious hermit woman. As witches go, she totally fell down on the job of keeping tabs on the troll. The effects are quite impressive, and despite the silliness of the story they really run with it with gusto. It's funny; even though it's dumb, it makes the effort to kinda make sense, so it's okay.

The film begins with the Potter family moving into a new apartment complex in San Francisco. While unpacking, their young daughter Wendy is attacked by a grotesque little creature, who had long ago been transformed from a powerful wizard into a troll. Using a magic crystal green ring, it captures Wendy and possesses her form. After meeting the other eccentric tenants, the family notices Wendy's unusual behavior (roaring, biting, tossing people across rooms, punching people in the groin), but they attribute her behavior to the stress of the move. The only one that notices something is terribly wrong is Wendy's brother, Harry Potter Jr. (Noah Hathaway). Frightened by his sister's sudden and violent changes, he seeks solace in the company of a mysterious old lady, named Eunice St. Clair (June Lockhart), who lives upstairs. When he tells her of the strange goings-on, she reveals to him her real profession: a witch. Harry asks Eunice to teach him magic, but she says that there is not time. She does instruct him as to the ways of a hidden magical world, and tells him of her long history stretching back to a time of when she and a powerful wizard named Torok were in love. At that time the world was divided between fairies, which includes trolls, and humans. The realms were equal and independent of each other; however, Torok and some of the fairies challenged this balance resulting in a great war in which the humans prevailed. Torok was transformed into a troll as punishment. Eunice stands guard, as she has for centuries, now in her apartment, waiting patiently for Torok to challenge the realms again, which is happening now. The troll wizard has already begun his secret war, going from apartment to apartment, attacking the tenants and transforming them into mythical creatures according to their personalities, such as goblins, nymphs, an elf and a bugbear, and it transforms their rooms into lush fairy worlds. When every apartment is transformed the world of the fairies will burst forth into the world of the humans. Harry is told by Eunice that Torok can be stopped by plunging a magic staff into the heart of Torok's world. Eunice tells Harry the heart of the new fairy world will be a large and vicious magical creature. Armed with magic staffs which shoot bolts of energy, Eunice and Harry launch a final attempt to stop Torok's hostile takeover of the world and enter the troll's magical alternate universe. Eunice is attacked by Torok and turned into a tree stump, and Harry finds his sister trapped in a coffin of glass à la Snow White. Suddenly Torok's great bat monster attacks and disables Harry. When it goes after Wendy, Torok kills it, destroying his carefully constructed fairy realm. As the magic world collapses around them, Harry and his family are given a chance to escape, leaving just as the police arrive. As the police investigate the house, one of them is drawn into a remaining fragment of the alternate fairy world.
See Details