True Adolescents
(2011)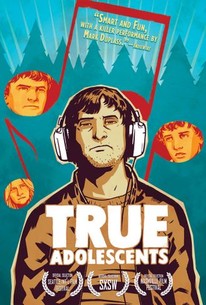 Movie Info
Craig Johnson's poised and poignant first feature follows Sam (Mark Duplass), an, unbeknownst to him, washed-up rocker in the early stages of haggard. Jobless and apartment-less, he crashes with his aunt (a compassionate Melissa Leo) as a last resort and becomes reluctant camping-trip chaperone to her teenage son and a pal. That the three males are on par, maturity-wise, makes for engaging ensemble juvenilia. But in the stirring Pacific Northwest wilderness a surprising discovery turns dire -- and the distance from boy to man must be covered overnight. Duplass's ballsy and at times balls-out performance is a winner, particularly when Sam at long last takes stock of himself: it ain't pretty. -- (C) Official Site
Critic Reviews for True Adolescents
Audience Reviews for True Adolescents
A coming of age story about adolescents both teenage and much older. 32 year old adrift rocker lands at his aunts house and faces some hard truths about himself. Filmed on the Olympic Peninsula. Great cast.
Suzanne T
Cast: Mark Duplass, Bret Loehr, Carr Thompson, Melissa Leo Director: Craig Johnson Summary: Bowing to pressure from his aunt, juvenile-minded, thirty-something, wanna-be rocker Sam agrees to take two teenagers camping. But when the trip goes awry, Sam must break out of his arrested development and find a way to get them all back to safety. My Thoughts: "I thought the movie was funny and realistic. The main character, Sam, reminds me of my older brother. He lives wherever and is still very much stuck in his teen era, even though he's in his early forties. The movie doesn't have many players in it, but the actor's are great in this and the film is actually quite funny. Sam is a bit of a smartass who is stuck in his hipster ways all the way down to his skinny jeans. I am a true believer that men shouldn't wear those if they are past their twenties. Then you have Oliver, who is a bit of a jerk as well as his friend Jake, who seems to take a backseat to Oliver. They are both going through regular teenage stuff, dealing with mixed emotions and sexuallity. But on the camping trip these three embark on, Sam grows up and becomes an adult and the two jerky teenagers learn to accept themselves and not be so passive agressive. Not a bad movie and I loved how simple it was. Just seemed honest. I like simple honest films. Makes them human and relateable."
♥˩ƳИИ ƜѲѲƉƧ♥
Super Reviewer
A coming of age tale mixed with slacker humor. The movie is nothing mind blowing but I like Mark Duplass even more now (he is in the TV show "The league").
Jeff Heruth
Discussion Forum
Discuss True Adolescents on our Movie forum!