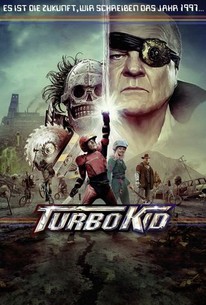 Turbo Kid
2015, Action/Adventure, 1h 35m
55 Reviews
2,500+ Ratings
What to know
critics consensus
A nostalgic ode to kids' movies of yesteryear, Turbo Kid eyes the past through an entertaining -- albeit surprisingly gory -- postmodern lens. Read critic reviews
Where to watch
Rent/buy
Free
Rent/buy
Rent/buy
Rate And Review
Movie Info
In a post-apocalyptic wasteland, an orphaned teen (Munro Chambers) must battle a ruthless warlord (Michael Ironside) to save the girl (Laurence Leboeuf) of his dreams.
News & Interviews for Turbo Kid
Audience Reviews for Turbo Kid
The idea of a post-apocalyptic movie about people on bikes that looks and sounds entirely as if it was made in the 80s is awesome. And you can't blame a movie for its low budget. You can blame it for the rather unoriginal story it tells, though. While a lot of people seem ti give it a pass for its great soundtrack, nostalgic trash feeling or the incredible amount of blood and gore effects, the heart of the film feels a bit hollow and, worse, predictable. A guilty pleasure that could and should have dared to be more original.

Essential viewing if you were a child of the 80's

An energized ball of retro glee, Turbo Kid is an earnest and satisfying adventure yarn with a lot of cheese. Set in the post-apocalyptic year of 1997, a comic-loving boy scavenger stumbles across a mysterious girl, a suit of armor with an attached energy weapon, a band of murderous raiders, and a new destiny. Turbo Kid is obviously influenced by Mad Max, but it also resembles an early Peter Jackson movie with Troma levels of comical gore and humor along with a dash of Terminator. In fact, B-movies of the 80's and early 90's are the primary flavor here, but it manages to have a cute narrative that almost feels Spielbergian. This movie is often compared with Kung Fury, but it manages to be the superior film by being more than just a collection of 80's references and over-stylized CGI. Munro Chambers inspires as the titular hero and Michael Ironside has quite a bit of fun doing his best Lord Humungus crossed with Dennis Hopper's villain from Waterworld. Yet Laurence Leboeuf makes Turbo Kid work as well as it does with her weird, adorably naïve, but tough take on the manic pixie dream girl trope and manages to overcome its limitations by being a truly fun and interesting character. Her deadpan seriousness sells many of the absurd moments of the movie and highlights its true strength - heart. There's not an ounce of cynicism to be had anywhere and it ends up being a better genre film than one would imagine based on its title or low budget. A sure cult favorite and a must see. You have the power!

From the outset, this could be any kind of post-apocalyptic wasteland movie you have seen time and time again based off the opening scene. Kid out on his own scrounging for supplies to sell back at home base for food and water. You may even feel this is a blatant rip off of Star Wars character Rey or even the plotline to Mad Max with the water, but instead, we get a blend of what appears on the surface to be a normal "real-life" experience infused with fantasy elements. It makes for enjoyable watching. Our lead actor, Munro Chambers, has fallen on hard times as an orphan thanks to his parents' murders when he was a younger kid. He worships a "super hero" of the olden days called Turbo Man, and you'd be one to believe none of it was real. Instead, the movie turns that premises on its head (for the better) and introduced some crazy science-fiction fantasy elements into the picture with a hand canon/glove that could resemble Mega Man's photon blaster. While the budget clearly shows the money was saved for the effects of said blaster, the gore and guts are hilariously comedic looking to the point of over played gushing blood and obvious rubber body parts. It all suits the tone just fine. The anchor of the acting is held together by Michael Ironside. Great to see character actors of his stature give his credence to a small indie film like this. Also a pleasant surprise, though somewhat one-note, was Laurence LeBoeuf. Not the best human playing a robot who's supposed to act like a human but is actually a robot we've seen. With the story staying pretty linear and advancing at a reasonable pace with some good backstory to bolster the revenge aspect of the film, Turbo Kid turns into a pretty fun take on some old school action flicks with a solid 80's soundtrack backing it the entire way.
See Details