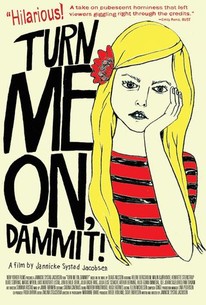 Turn Me On, Dammit!
2011, Comedy, 1h 16m
46 Reviews
2,500+ Ratings
Rate And Review
Turn Me On, Dammit! Photos
Movie Info
A 15-year-old Norwegian teen (Helene Bergsholm) is eager to explore her budding sexuality, but her encounter with the school heartthrob makes her a social outcast.
News & Interviews for Turn Me On, Dammit!
Audience Reviews for Turn Me On, Dammit!
Loved it. Just something about it is sweet, more than you would think from the subject matter. If it was american, would be as crude as all hell, but it just works. Cast are great.

cute film, puts a smile on my face XD

"Turn Me on, Dammit!" starts with 15-year old Alma(Helene Bergsholm) masturbating furiously to a telephone sex line. Luckily, she is able to compose herself before her mother(Henriette Steenstrup) returns home, even with the family dog needing psychological help to get certain images out of its head. Otherwise, Alma hangs out and drinks in the small Norwegian town where she lives with her friends Ingrid(Beate Stofring), who is hooked on lip gloss, and Sara(Malin Bjorhovde), who wants to work to eliminate the death penalty in Texas. And then there is the local dance where Alma encounters Artur(Matias Myren) who she pines for. That it does not go according to plan is an understatement, as Alma's troubles are only beginning when it gets out what does happen. Aside from a great title, "Turn Me On, Dammit!" is a charming and winning movie that handles the sensitive topic of teen sexuality with humor and grace. The movie also pulls off the trickiness of Alma's fantasy life(not always heterosexual by the way), without thankfully trying to pull the rug out from the viewer. Of special notice is the film's maturity in subtly pointing out that it is okay for teens to think about sex, but please be patient when acting out on those desires with adulthood just around the corner. However, there is no age limit for saving the world, as Sara is proving with her cause. Even as the movie gets details of the downside of small town existence right, there is also enough beautiful scenery on hand that it could be inferred that Alma and her friends might be taking it all for granted.

On paper this sounded like a Norwegian "Welcome To The Dollhouse" but it's much more aimed at a teen audience. Norwegian teens seem a lot more advanced than most others though and this features copious masturbation, breast fondling, and even an erect penis. This in a movie whose characters are all fifteen! It will probably get the equivalent of an "R" rating everywhere outside Northern Europe which means it's target audience won't even hear about it. Helene Bergsholm is brilliant in the lead role of a constantly horny teen, running up her mother's phone bill on sex lines and daydreaming about being ravished by every male she encounters. I wouldn't be surprised to see her break out into English language films in the future.
See Details