Tuvalu
(2002)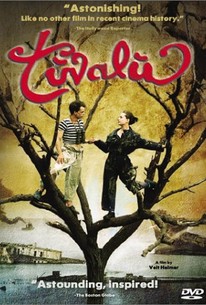 Movie Info
Tuvalu is the name of an island which Anton dreams of escaping to -- a dream which seems unlikely to come true, given that he works as the maintenance man at the dilapidated and largely deserted pool owned by his father. Located in the middle of nowhere, the pool has been going out of business for years, but Anton goes to elaborate measures to convince his blind father that the pool is still popular and frequented. When Anton's entrepreneur brother Gregor hatches a scheme to have the pool razed and sold off as real estate, Anton must enlist the help of the few regulars who support the pool. Banding together, the group attempts to save the pool from a health inspection that will put it out of business, while Anton tries to win the love of his longtime friend Eva.
Critic Reviews for Tuvalu
Audience Reviews for Tuvalu
Can a picturesque but dilapidated Turkish bathhouse pass a government inspection, and can love between a poolboy and a female patron flourish after the girl's father is killed when a piece of the crumbling ceiling falls on him? This nearly silent, tinted experimental feature with slapstick tributes is beautiful to look at but difficult to follow; the set peices are excellent, in small doses, but my attention drifted overall.
½
Ultimately a rewarding -- if weird -- experience. Imagine watching a Dali painting brought to life. The film is relentlessly arty and much too stylistically bizarre for mainstream taste ... But it has its own peculiar charm. Like watching a synthesis of Guy Maddin and Buster Keaton with European sensibilities.
Lee Mayo
½
What a wonderful movie! yes, it's like Metropolis remade by Guy Maddin as a Jean-Pierre Jeunet love story, but somehow it's so much more than that. Every directorial choice Helmer made, from the perfect casting, to keeping the dialog gestural and nearly non-verbal, to the childishly simple plot, to filming in sepiatone with hand-tinted accents, adds up to pure cinematic magic. A movie that reminds you why you love movies.
Gil Gershman
Tuvalu Quotes
There are no approved quotes yet for this movie.
Discussion Forum
Discuss Tuvalu on our Movie forum!