The Two Faces of Dr. Jekyll (Dr. Jekyll and Mr. Hyde)
(1960)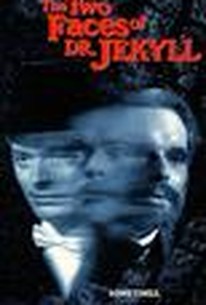 AUDIENCE SCORE
Critic Consensus: No consensus yet.
The Two Faces of Dr. Jekyll (Dr. Jekyll and Mr. Hyde) Photos
Movie Info
This is the film version of Robert Louis Stevenson's The Strange Case of Dr. Jekyll and Mr. Hyde in which Hyde is the handsome, clean-shaven one. Though top-billed Christopher Lee, portraying a caddish playboy, was the beneficiary of all the ad publicity, it is Paul Massie who plays Dr. Jekyll and Mr. Hyde. The "horror" in the film is mostly sociological, with Jekyll learning first hand of the corruption lurking beneath the respectable facade of the Victorian Era. His metamorphosis into Hyde is meant as an allegory to the evils of drug addiction, another "don't ask--don't tell" element of 19th century London. In still another departure from the Stevenson original, Jekyll becomes Hyde not because he can't control his alter ego, but because he wants to exact revenge on Christopher Lee, who has been siphoning off Jekyll's savings to finance his own gambling and womanizing. In contrast to Stevenson's story, Jekyll/Hyde does not die--though the strain of being Hyde has permanently scarred Jekyll's psyche. Two Faces of Dr. Jekyll was originally released in Britain as House of Fright. ~ Hal Erickson, Rovi
Critic Reviews for The Two Faces of Dr. Jekyll (Dr. Jekyll and Mr. Hyde)
All Critics (4) | Fresh (3) | Rotten (1)
Jekyll's tragedy in this unique Stevenson revamp is that he doesn't understand that much of humanity already lives a Jekyll-and-Hyde existence -- including his unfaithful bride, who is a 'perfect wife' by day and a 'perfect mistress' by night.
Terence Fisher's version of the Stevenson story is actually British bedroom farce, so dry and subtle that reviewers could only complain about the 'lack of horror'
The movie pretty much follows the original story, without using its new twist in any interesting ways.
Audience Reviews for The Two Faces of Dr. Jekyll (Dr. Jekyll and Mr. Hyde)
Dr. Henry Jekyll (Paul Massie) is working on a serum that brings out the animal instincts of man. After testing it on a monkey (who goes berserk), he turns to himself. As his alternate self, Edward Hyde, he stumbles upon his friend's treachery and his wife's sordid affair. Hyde, the animal that he is, is ready to go on his own little excursion into debauchery and hedonism. I was really blown away by this film. The Jekyll/Hyde story has been told again and again and the main character has been portrayed by countless actors. Yet, this may be the great version out there -- definitely the best one I've seen yet. The Canadian actor playing both roles was a new face for me, but is pretty amazing and I couldn't see the two personas as the same actor no matter how hard I tried. It was quite impressive. Christopher Lee, ever-present in the Hammer films (did he ever have a day off?), plays friend Paul Allen. Wow. I've praised Lee in "Scream of Fear", but he should be praised no less in this, where he's a convincingly sleazy gambler and womanizer. Not the way I picture Lee to be, but it seems so natural here. The more I see this man in action, the more I see what the generation before me saw. I had always been a Peter Cushing fan, but maybe it's time for me to switch sides? I enjoyed the philosophical questions raised by this film. There's the portrayal of Hyde as younger, more handsome and more charming... not the monster he's usually shown to be. I think this fit well... he still had the spontaneous violence, but not unlike the devil himself, knew his way to get to people with savoir faire. Early on, Jekyll also talks of the man "beyond good and evil", the "higher man", evoking the words of philosopher Friedrich Nietzsche, though certainly not in the way Nietzsche would have endorsed. Both Nietzsche's and Jekyll's higher man use their wills to gain what they most desire, but Hyde is something of an unhinged creature, not the refined and academic man Nietzsche preferred. Nietzsche also spoke of "beyond good and evil" as a transcendence of morality, moving beyond our traditional concepts and accepting that there is good and bad, but no overarching divine good or evil. In this regard, Hyde may be comparable. He certainly has no care for his "evil" actions... though one suspects that not even Nietzsche would support these "bad" actions destroying those around him. You must pick up this film (preferably in the four-disc set of Hammer films also containing "The Gordon" and "Scream of Fear"). You don't need to be as analytical or philosophical as I am when digesting it, but you'll love the film for its great characters and hedonistic wickedness... drunken, licentious men in 1870s London? Let the depravity begin. 5 Stars 7-9-13
Bruce Bruce
Super Reviewer
An awesome Hammer movie that relies more on psychological unnerving than gory imagery. While not actually scary, The Two Faces of Dr. Jekyll has some pretty salty talk (by 60s standards anyway) and some, uh... unexpected goings on that were depicted in not such vague and ambiguous ways that Hollywood had done up to then. Possibly what I love best about this movie is that Mr. Hyde wasn't portrayed as some grunting monster in 20 pounds of make-up, but rather a charming gentleman that passed for an everyday person -- a wolf in sheep's clothing. Think Joseph Cotten in Shadow of a Doubt. And this is ultimately where the movie's power comes from, I think. Oh, and of course Terence Fisher's (as always) magnificent direction. (The snake lady didn't hurt, either...)
Michael Gildea
Super Reviewer
The Two Faces of Dr. Jekyll (Dr. Jekyll and Mr. Hyde) Quotes
There are no approved quotes yet for this movie.