Under the Skin
(2014)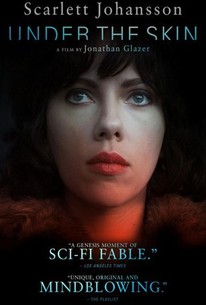 TOMATOMETER
AUDIENCE SCORE
Critic Consensus: Its message may prove elusive for some, but with absorbing imagery and a mesmerizing performance from Scarlett Johansson, Under the Skin is a haunting viewing experience.
Movie Info
An alien in human form is on a journey through Scotland.
People Who Like this movie also like
News & Interviews for Under the Skin
Critic Reviews for Under the Skin
Audience Reviews for Under the Skin
½
Polarizing Sci-Fi horror film in the shape of an arthouse movie. Repetitive and slow at first, then opening up to the landscape in the more interesting second half, which also has Johansson's strongest scenes. A lot of times the film is extremely uncomfortable to watch and in the end you wonder why you even bothered, but something tells me a few scenes will stay with you for a while - for good and for bad.
½
A harrowing and strongly atmospheric science fiction with seductive visuals, powerful dissonant music and thought-provoking ideas and meanings about what lies underneath appearances and that which makes us humans - including fear, melancholy and emptiness.
Carlos Magalhães
Super Reviewer
Having been a fan of both Sexy Beast and the underrated Birth, I was happy to hear that Jonathan Glazer's third directorial outing would be an adaptation of a Michael Faber popular science fiction novel of the same name. Also (as a Glaswegian myself) I was even more intrigued to hear that this forthcoming story would be set primarily in Glasgow. I was interested in how the city and it's inhabitants would be depicted and I have to admit that Glazer's decision to do so, has paid dividends. A mysterious, and otherworldly, woman (Scarlett Johansson) arrives in Scotland where she wanders and drives around with the intention of seducing lonely men. The encounters she has, lead her to question her own existence as she strives for some meaning to her life and those around her. Did I hear anyone say Species? Of course, those who are familiar with Roger Donaldson's 1995, B-movie Sci-Fi will undoubtedly make comparisons with the premise of Glazer's third outing but the film itself actually shares more in common with the originality of Nicolas Roeg's 1976 film, The Man Who Fell To Earth. However, these films are mentioned in the same breath for very good reason as Under The Skin feels, somewhat, like the love child of Natasha Henstridge and David Bowie. Scarlett Johansson's unnamed extra-terrestrial has the same man-devouring intentions as Henstridge while director Jonathan Blazer has an uncanny knack for Roeg's ethereal qualities. It could also be pointed out that Bertrand Tavernier's Death Watch in 1980 could have had an influence in utilising the grim and gloomy Glasgow locations for a sombre, science fiction mood piece. It's has a hugely experimental approach to filmmaking but one that's entirely fitting to the films themes of isolation and understanding. Many Glasgow residents were filmed in secret (signing a disclaimer afterwords to be included in the final cut) and it's this secret filming that adds an authenticity to their behaviour and allows us to see ourselves through the eyes of another entity. In this case, it's almost a stroke of genius to have the often indecipherable Glaswegians as the focus of this alien being's intentions. Many don't understand the Glaswegian dialect or idiom and even though I completely understood what they were saying, I can only assume that many viewers wouldn't quite grasp it the same way. Maybe I'm wrong but I often get the impression that the colloquialisms of the city do seem alien to people. I could even sense that Johansson herself didn't know what they were saying at times but this only added the distance between her and the supporting characters. No one does anything of particular note but it's their mundane existence that Johansson's character finds interesting and it adds a rather captivating edge when seen through her eyes. Few, if any, science fiction films have managed to capture this concept or observation so well and it's this that lends the film a true originality that bypasses the B-movie shlock of Species and comfortably finds it's path on Roeg-ish territory. That being said, Under the Skin can, at times, be a tough watch and will certainly not appeal to those that who prefer to be spoonfed their science fiction. There's a leisurely pace and the foreboding music score by Mica Levi and brilliantly bleak cinematography by Daniel Landin only add to the overall sense of dread and depression. The entire point of it all in creating and conveying a distance is also the very approach that could leave many a viewer struggling to find any enjoyment. It's also a role for Johansson that will 'alienate' many of her fans but those who are patient and appreciate art-house cinema will be richly rewarded. Much like the lure Johansson has over her male counterparts, the film itself lures you into a meditative frame of mind and refuses to let go. Some may see it as pretentious but whether or not you grasp itâ??s existential ponderingâ??s, thereâ??s still no denying itâ??s mesmerising mood. Bold filmmaking and quite unlike anything else from 2014. Mark Walker
Mark Walker
Super Reviewer