Underworld: Blood Wars
(2017)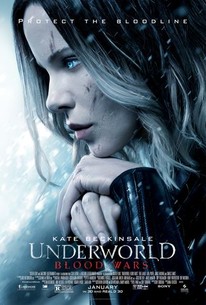 TOMATOMETER
AUDIENCE SCORE
Critic Consensus: Underworld: Blood Wars delivers another round of the stylized violence that the series is known for, but -- like many fifth franchise installments -- offers precious little of interest to the unconverted.
Underworld: Blood Wars Videos
Underworld: Blood Wars Photos
Movie Info
The next installment in the blockbuster franchise, UNDERWORLD: BLOOD WARS follows Vampire death dealer, Selene (Kate Beckinsale) as she fends off brutal attacks from both the Lycan clan and the Vampire faction that betrayed her. With her only allies, David (Theo James) and his father Thomas (Charles Dance), she must stop the eternal war between Lycans and Vampires, even if it means she has to make the ultimate sacrifice.
News & Interviews for Underworld: Blood Wars
Critic Reviews for Underworld: Blood Wars
Audience Reviews for Underworld: Blood Wars
The fifth installment of the franchise, Underworld: Blood Wars is a contrived and pointless film. When the vampire clans face a relentless new enemy they offer renegade death dealer Selene clemency in exchange for training a new group of vampires to be death dealers. The plot is rather thin and doesn't make a lot of sense. And Kate Beckinsale phones in her performance, letting her stunt double to all the real work. Still, the fight scenes are well-choreographed and exciting (at times). Incredibly disappointing, Underworld: Blood Wars is a shallow and vapid action film that fails to revive the series.
Dann Michalski
Super Reviewer
½
Over time this franchise has virtually become a mirror image of the [i]Resident Evil[/i] movie franchise (the crappy live action franchise not the animated franchise). Both formulas have become almost identical to the point that you could simply swap out zombies with either vampire or werewolves and no one would notice or care. And of course the big question for both is how they have managed to keep going?? OK so I'm not going to explain the plot here simply because that would require going over all the previous movies and I simply can't do that. Why? because I cannot remember what happened in the previous movies and I'm not gonna rewatch them. The same argument can also be used for the [i]Resident Evil[/i] movies coincidentally. But don't worry because this movie actually recaps all the previous movies in a somewhat lengthy flashback with added narration, so you're all covered. But put simply, lots of vamps and lycans fight each other amongst a multitude of double crosses and character plot twists. The first thought that hit me as this movie get into gear was how bad it looked, what a come down from what has come before. In general this movie looks terribly dull, washed out, dreary and unexciting. Now I realise the whole point of the movie/franchise is to look like this because its a gothic action horror series. But here's the thing, all (or most) of the previous movies had interesting and imaginative visuals and ideas. You could see the people involved wanted to showcase the gothic magnificence of the story with lavish sets and costumes, unique camera viewpoints, creative action sequences and some genuine classic horror vibes. But as the franchise has progressed these elements have slowly drained away leaving this totally drab and frankly cheap looking fifth entry. The first action sequence is a shambles of obvious greenscreen, an obvious set, terrible transformations and CGI lycans, CGI blood spurts and tired action. The entire sequence looked like it was made for TV or straight out of a videogame. Dated and cliched remark there I know but there is no other way to describe it. Things don't really improve from that point either. Most of the makeup for the vampires is obvious with their straightened hair, highlights and shadow. All the vamps look like fashion models whilst the lycans look like a bunch of hobos or eastern European gypsies, still. No one ever seems to change their outfits apart from the women who change for every scene (except Selene who never gets out of her catsuit). But more importantly the whole movie is just so boring looking. Its like they had limited locations to shoot on with a limited budget. There is not a single scene or shot that looks interesting, cool or has a nice traditional gothic vibe about it. Its all just a series of badly envisioned sets saturated in a limited colour palette of black, grey and dark blue. As for plot points, well holy shit this becomes a convoluted mess fast. Most of the main characters in this movie are either a secret lover of another, or a secret child of someone else important, or they're double crossing someone. I kid you not it all becomes such a mess of character names and backstory it doesn't surprise me that there are so many flashbacks to all the other films for assistance. To top that you're never really quite sure if a certain character has actually died or not, which of course is deliberate (sequels!!). Lets talk about the new vampires we meet in this movie, the Nordic vampires. Yep you guessed it, they are Nordic, which is Scandinavian, which instantly makes people think of blondes and snow. Yes that's right, all the Nordic vampires have blonde (or platinum blonde/white) hair and eyebrows and they all dress in flowing white robes (because snow is white and they're in the snowy region of Scandinavia. See how that works). This section of the movie was genuinely laughable. The vamps looked like elves from a certain fantasy novel, they all used basic weaponry (no guns). There was also a never-ending supply of them apparently, and they carry out some underwater ritual or meditation that gives them teleporting powers (I didn't get it). Of course Selene eventually goes through this when you think she's dead (don't be stupid) and ends up with said teleporting powers...oh and blonde highlights because new movie, new look! For a movie about vampires fighting werewolves there is certainly a lot of fighting between just normal looking people (with guns, lots of guns...and hoodies, lots of hoodies). There is of course lycan action but the shit CGI mixed with how apparently useless they are made it all seem rather pointless and uneventful really. Lycan chief Marius seems to be some kind of úber lycan or hybrid, not really sure but he has a humanoid face when transformed. Naturally despite him being HUGE and muscular he still doesn't tear off Selene's head in the first five seconds of their face-off. I don't understand how or why he doesn't do this. I also don't get how Marius and David (vampire chap from last flick) can expel bullets from their bodies yet none of the others do the same when shot. Is it something to do with how many bullets or vampire/lycan hierarchy and strength?? I'm sure I've been told at some point but cannot recall. So was I disappointed with this new entry in the never ending battle between vampires and werewolves? Well its hard to answer that really. On one hand no I wasn't disappointed because I knew exactly what to expect, as I'm sure others will do to. I knew very well how it would look, feel and play out. I also knew very well that it would finish leaving the franchise open to carry on further. I would say I was left underwhelmed by the movies lack of imagination, vision and excitement which up to this point has been the franchises saving grace. Yes we know it will do the same thing all over again but come on, at least look good doing it yeah.
Phil Hubbs
Super Reviewer
½
Although I enjoyed it just as much as the others my rating is lower as Underworld just seems to do what do many sequels have done before which is go round in circles with the story to the point where it's basically the same plot we have already seen, Having said that the action was the best yet in the series with some pretty good effects that really make the film as good as it was, I can't comment on the 3D as I watched the 2D version but I don't think it would of been worth paying extra for, It won't gain any new fans but fans of the previous films will enjoy it even if the plot does sound very familiar to us.
Jamie Clarke
Super Reviewer
Underworld: Blood Wars Quotes
There are no approved quotes yet for this movie.