Untold Story of Emmett Louis Till
(2005)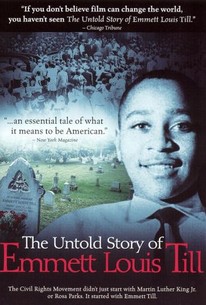 TOMATOMETER
AUDIENCE SCORE
Critic Consensus: Without sensationalism or flinching from the brutality of the crime, this documentary is an eye-opening call for justice.
Untold Story of Emmett Louis Till Photos
Movie Info
In August 1955, Mamie Till-Mobely of Chicago sent her only child, 14-year old Emmett Louis Till, to visit relatives in the Mississippi Delta. Little did she know that eight days later, Emmett would be abducted from his great uncle's home, brutally beaten and murdered for one of the oldest southern taboos: addressing a white woman in public. The murderers were soon arrested but later acquitted of murder by an all-white, all-male jury. However, Emmett did not die in vain. His horrific, senseless death sparked media attention when his mother insisted on having an open casket funeral. Her decision was controversial, but her reason was simple. She defended her decision by stating, "I want the world to see what they did to my son." Till's death sparked the Black Resistance of the South which later became known as the American Civil Rights Movement. Scholars and historians have studied the murder of Emmett Till ever since, and the case has even made its way through African-American folklore, spanning five decades. People continue to be fascinated by the murder of Till. Many books have been written revealing the incongruous facts surrounding the influential case and controversial jury decision. But, the true story has never been revealed.
Critic Reviews for Untold Story of Emmett Louis Till
Audience Reviews for Untold Story of Emmett Louis Till
½
Can't believe this was only a few decades ago. A good doc about injustice and racism.
Probably the most compelling and disturbing documentary I have ever seen! It truly opened my eyes as to racial injustices in the Southern states of the U.S. prior to the 1960s. Emmett Louis Till was a catalyst to the American Civil Rights Movement, and as such, I believe virtually everyone should spare some time to see this.
[font=Century Gothic]"The Untold Story of Emmitt Louis Till" is a documentary about 14-year old Emmitt Louis Till, who was tortured and lynched while on vacation with relatives in Mississippi in 1955. This and the failure to convict the killers in a courtroom were one of the main sparks of the Civil Rights Movement. This documentary really does not provide any new information and simply relies on talking heads and archival material.(One of the interviews is with Till's mother who provides the emotional core of the movie.) The most informative parts involve Till's funeral in Chicago and the preparations for that. There is a very odd coda, though. The main point of this documentary is that there are few things more powerful than a mother's grief.[/font] [font=Century Gothic][/font] [font=Century Gothic][color=navy]"Darwin's Nightmare" is a powerful documentary about the thoroughly catastrophic ecosystem of Lake Victoria in Tanzania, a country on the edge of famine as it is. Some years before, Nile Perch were introduced into the lake which not only killed off all the other fish in the lake but also cannibalize themselves. Humans are affected because if they do not have one of the relative handful of jobs involved with the catching and processing of the fish(which are all shipped off to Europe without anything beneficial in return), then they must turn to prostitution, find some other way to survive or starve. But even for the people who do work, life can be risky - HIV/AIDS is rampant, fishing is itself dangerous and the local airport's primitive conditions make things a little risky trying to take off and land. The movie interviews people involved like factory managers, airport security, Russian pilots, a prositute, a minister and a local artist.(No outside experts are interviewed but we can see for ourselves that something is seriously wrong here.) My only complaint is that none of the people lucky enough to work in the factory are interviewed to get a sense of how their lives are. This is an excellent documentary about neo-colonialist attitudes that allow for people to make a buck at the expense of other people they have no interest in helping.[/color][/font]
Untold Story of Emmett Louis Till Quotes
There are no approved quotes yet for this movie.