The Untouchables
(1987)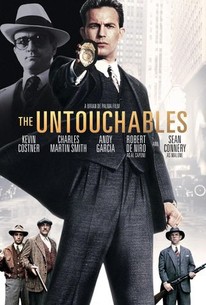 TOMATOMETER
AUDIENCE SCORE
Critic Consensus: Slick on the surface but loaded with artful touches, Brian DePalma's classical gangster thriller is a sharp look at period Chicago crime, featuring excellent performances from a top-notch cast.
Movie Info
Like the TV series that shared the same title, The Untouchables (1987) was an account of the battle between gangster Al Capone and lawman Eliot Ness, this time in the form of a feature film boasting big stars, a big budget, and a script from respected playwright David Mamet. Kevin Costner stars as Ness, a federal agent who has come to Chicago during the Prohibition Era, when corruption in the local police department is rampant. His mission is to put crime lord Capone (Robert De Niro) out of business, but Capone is so powerful and popular that Ness is not taken seriously by the law or the press. One night, discouraged, he meets a veteran patrolman, Jimmy Malone (Sean Connery), and discovers that the acerbic Irishman is the one honest man he's been seeking. Malone has soon helped Ness recruit a gunslinger rookie, George Stone (Andy Garcia), and, joined by nebbish accountant Oscar Wallace (Charles Martin Smith), the men doggedly pursue Capone and his illegal interests. At first a laughingstock, Ness soon has Capone outraged over his and Malone's sometimes law-bending tactics, and the vain mobster strikes back in vicious style. Ultimately, it is the most unexpected and minor of crimes, tax evasion, which proves Capone's undoing. All of the credits for The Untouchables boasted big names, including music from Ennio Morricone and costumes by Giorgio Armani. Director Brian De Palma continued his tradition of including a homage to past masters of the cinema with a taut stairway shoot-out reminiscent of a similar sequence in Sergei Eisenstein's Battleship Potemkin (1925). ~ Karl Williams, Rovi
News & Interviews for The Untouchables
Critic Reviews for The Untouchables
Audience Reviews for The Untouchables
Though there are certain historical liberties taken with the story of the Untouchables taking down Al Capone, this film is completely forgiven. It's a historical period piece, an action film, and a gangster crime film all rolled up into one. Whether or not Al Capone was justified in breaking the Volstead Act and bringing alcohol into the Chicago streets is history's burden, but the violence exacted upon his enemies was the same as a warlord, and for that the audience wants to see him go down. Seeing Eliot Ness (Costner) take Capone (De Niro) down was a sweet victory, in a film fraught with the deaths of many. The crusade that the Untouchables took on, risking their own lives to their detriment, was personal and heroic, and this film shows that. Not only that but every one of them is defined as an action hero, though some of them may be accountants, other beat cops. Every scene is artfully done, whether they're at the battle on the bridge, or the nod to "Battleship Potemkin" at the train station, or the rooftop chase, it's a sweetly crafted ode to these heroes, and the lives that they lived and lost. It's a really cool movie, and for a period piece, that's pretty difficult to pull off.
Spencer S.
Super Reviewer
Written by David Mamet and directed by Brian De Palma, this is a flashy retelling of Eliot Ness and his quest to bring down Al Capone on the mean streets of Prohibition era Chicago. I used to be quite fond of this film, but time, re viewings, and some other factors have lead me to realize that this film isn't quite the gem I once thought it was. There are liberties with the history, and I expected that, but not only that, there's really not a whole lot of character development or that strong of a story here. Yeah, the pacing's tight, but I feel like things are perhaps a bit too rushed, and more time could be spent building the story instead of just jumping right in from event to event. The period details are quite good though, and the film nails the era fine. The historical errors just come with character, development, and the general plot/story. Ennio Morricone's music, while good (save for a track or two), is misused, with the cues showing up at inappropriate times, making for a jarring effect. The film feels really uneven, especially with the music, but in general too. It's like they were unsure what kind of tone they were shooting for. Okay, now for more praise. This film is stylish, and quite entertaining. There's a strong cast, and the performances are pretty decent. I don't know if Connery necessarily deserved the Oscar he got for this, but he is a joy to watch, even if I don't quite buy him as a veteran beat cop. Being a De Palma film, there's some great cinematography and camera work, complete with a few nice long take/tracking shots. Even though the film is kinda uneven, there are some quite suspenseful scenes throughout, with perhaps the highlight being the climax at the train station which features a loving tribute to the "Odessa steps" sequence from Battleship Potemkin. All in all, this film isn't nearly as good as people remember it to be. It's quite flawed, yet somehow I can't bring myself to rate it any lower, despite my gripes with it. Perhaps that's a bit hypocritical, but hell, even the cops took drinks while enforcing Prohibition, so yeah, nobody's perfect. In any case, I still recommend this, even though I knew it could have been a lot better, and I know what could have been done to get it that way.
Chris Weber
Super Reviewer
½
[img]http://images.rottentomatoes.com/images/user/icons/icon14.gif[/img]
Directors Cat
Super Reviewer
The Untouchables Quotes
| | |
| --- | --- |
| Frank Nitti: | Your friend screamed like a irish pig (Ness throws him of the roof) |
| Frank Nitti: | Your friend screamed like a Irish pig. |
| Eliot Ness: | Did he sound anything like that |
| Eliot Ness: | Did he sound anything like that? |
| | |
| --- | --- |
| Jim Malone: | Federal agents this is a raid |
| Jim Malone: | Federal agents! This is a raid! |
| | |
| --- | --- |
| Oscar Wallace: | This man could finger Al Capone this man could put Capone behind bars |
| Oscar Wallace: | This man could finger Al Capone. This man could put Capone behind bars. |
| | |
| --- | --- |
| Eliot Ness: | Never stop fighting till the fight is done |
| Eliot Ness: | Never stop fighting till the fight is done. |
Discussion Forum
Discuss The Untouchables on our Movie forum!