Uomini Si Nasce Poliziotti Si Muore
(1976)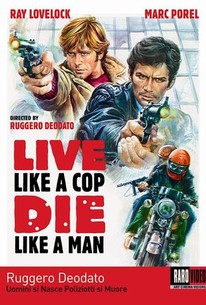 AUDIENCE SCORE
Critic Consensus: No consensus yet.
Uomini Si Nasce Poliziotti Si Muore Photos
Movie Info
Renegade anti-crime squad cops Alfredo (Marc Porel) and Antonio (Ray Lovelock) deliver justice down the barrels of their revolvers in this violent poliziottecschi from director Ruggero Deodato (Cannibal Holocaust) and screenwriter Fernando Di Leo (The Italian Connection).
Critic Reviews for Uomini Si Nasce Poliziotti Si Muore
Audience Reviews for Uomini Si Nasce Poliziotti Si Muore
Crime is so rife in Rome that a 'Special Squad' is set up by the Police to work undercover and bring down the crime lords. Only trouble is the recruitment process requires applicants to have a psychological profile identical to a criminals, step forward Tony and Fred (Ray Lovelock and Marc Porel). These two are like an 'X rated' Starsky & Hutch and carnage follows them around like cheap cologne. Working in plain clothes and seemingly allowed to do whatever they want they dish out their own version of justice i.e. if you do a crime and they catch you, be prepared for a good hiding or worse. To set the scene we're introduced to the pair as they witness a pair of thieves on a motorbike try and snatch a handbag from a lady in the street. They fail miserably and the woman is dragged along on her back as she won't let go of her handbag. It's only when she cracks her head on a fire hydrant that they stop the bike so they can kick her in the head and stamp on her stomach. As I said, Fred and Tony are on hand to apprehend them but the muggers flee off down the high street on their motorbike. Fred takes chase on his bike, with a superb and very long wheelie, while Tony steals the nearest bike and roars after them. A cracking bike chase ensues with the three bikes racing along at breakneck speeds doing more wheelies, riding over the tops of cars and jumping down sets of steps. Inevitably the crooks must be caught but not before they run over a blind mans guide dog, leaving the poor old sod stranded in the middle of the road calling out his pooches name, a crash, skid and bang later and the muggers are off their bike. One dies instantly, impaled on the handlebars, while the other one is dazed and bloodied but ok. Touchingly Fred makes him comfortable as he asks him his name... then snaps his neck! Less paper work apparently! This is pretty much the standard for the whole film, cracking stuff indeed! Who needs a complicated plot when you can just ride along with these two as they dish out law and order? When they go to question the local mob boss's girlfriend she ends up screwing them both! And willingly too! Not a bad days questioning if you ask me. As you'd expect from director Ruggero Deodato there's the requisite blood and guts, it's not too over the top, with a few bloody gunshot wounds here, an eye gouged out there, but no chunk-busting cannibals eating entrails. Which is a good thing seeing as this isn't a cannibal film. Lovelock and Porel are on fine form and at their best here. They make a great team, a right pair of good looking bastards too. It's a shame this was Deodato's only attempt at the cop genre as it would have been great to see these two back for more fun and games in a sequel. Highly recommended for fans of 70's grindhouse films
David Ladd
Super Reviewer
Uomini Si Nasce Poliziotti Si Muore Quotes
There are no approved quotes yet for this movie.