Sans Toit ni Loi (Vagabond) (Without Roof or Rule)
(1985)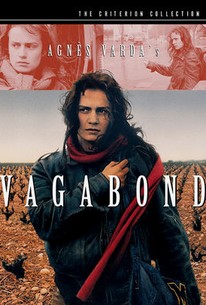 Sans Toit ni Loi (Vagabond) (Without Roof or Rule) Photos
Movie Info
Vagabond, directed by Agnes Varda is the dark disturbing story of a female drifter named Mona (Sandrine Bonnaire). The film opens as Mona's frozen body is found in a drainage ditch and proceeds to tell her story in a series of flashbacks and semi-documentary style "interviews" with the people who have known Mona during the last few weeks of her life. Mona is a distant, independent and not-very-likeable woman who goes from place to place, living where she can and with anyone who will take her in. Mona's true nature remains a puzzle, both to those who thought they knew her, and to the audience. As the movie progresses it becomes clear that no one knew the true Mona and she, because of her aloofness and essential coldness, provided a canvas for those she met to write upon. Who Mona really was, and what she thought remains ambiguous. Sandrine Bonnaire is excellent as Mona, making an unappealing and cold character interesting and intriguing. Director Agnes Varda began her career as a still photographer. This beginning is evident in her elegant framing of the film. She has an instinctive awareness of and a photographer's eye for visual detail which makes the film cold, bleak, and aridly beautiful. Internationally acclaimed, Vagabond is Varda's most successful film. ~ Linda Rasmussen, Rovi
Critic Reviews for Sans Toit ni Loi (Vagabond) (Without Roof or Rule)
Audience Reviews for Sans Toit ni Loi (Vagabond) (Without Roof or Rule)
Pursuing the roads for purpose, meaning, and acceptance. A subjective examination of a pernicious interpretation of freedom, Vagabond is an Agnès Varda character examination that simply observes and appreciates, mostly dependent on the outstanding performance of a young Sandrine Bonnaire as Mona Bergeron. Outstanding.
Jan Marc Macababayao
Super Reviewer
it's a beautiful film, perhaps a little too poetic in it's view of homelessness. definite tones of' 'into the wild' in other characters' envy of the heroine's freedom. i loved how varda framed shots but was a little annoyed at characters breaking the fourth wall. sandrine bonnaire is excellent, well worth a watch
Stella Dallas
Super Reviewer
A teenage girl is found frozen to death in a ditch on a winter morning in rural France. Through flashbacks and interviews, the rest of the film shows the audience how she got there. It's not a happy or pretty story, but it's a story worth experiencing. The film follows this young woman, named Simone "Mona" Bergeron, as she travels on foot across Southern France. We watch as she encounters others such as herself, and others who are not like her at all. She drinks too much, uses drugs, has sex seemingly indiscriminately, seems to have no goals or plans other than life on the road. She reveals a few desires along the way, such as wanting to have a potato farm and wanting a relationship with someone, but when both opportunities present themselves, she does not make use of them. We are never told any more about her, where she is from, if she is running away or running to, and from or to what. The people who knew her along the way discuss her only in the barest of details, in that they don't know any more than we do about her. There are several scenes of people judging Mona based on her outward appearance. Yes, they are correct in some instances, but somehow they still come across as clods for thinking that way. I've always found Southern France to be beautiful, with its quaint towns, wide fields of lavender, grapes and sunflowers, and fountains. However, in director Agnes Varda's hands, this open landscape turns into something desolate and unfriendly, cold to all but the most privileged of its citizens, but yet still beautiful. It is very much a metaphor for Mona's life. With the exception of a few characters -- Madame Landier the agronomist, Yolande, Jean-Pierre and his delightful old aunt Lydie -- only Mona is given any real screen time. Sandrine Bonnaire won a Cesar (the French Academy Award) for her portrayal of this down-and-out young woman. She was only 18 at the time, and she does a wonderful job of making Mona both sympathetic and distasteful -- we are told she smells bad, she is lazy and rarely it seems that she appreciates the things people do to help her. But yet you still want her to succeed, even though we know from the very beginning that she won't. Bonnaire resembles a young brunette Jeanne Moreau, so much so that I researched to see if there was any familial connection (I didn't find anything.) You might want to save this film for another time if you are feeling in any way down or lonely. But don't forget about it. You may be saddened, but you won't be disappointed.
Sans Toit ni Loi (Vagabond) (Without Roof or Rule) Quotes
There are no approved quotes yet for this movie.