Valdez Is Coming
(1971)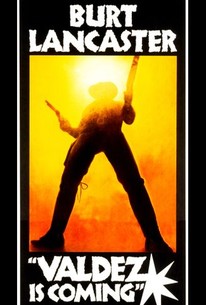 AUDIENCE SCORE
Critic Consensus: No consensus yet.
Movie Info
Adapted from an Elmore Leonard novel, Valdez is Coming stars Burt Lancaster in the title role. A scrupulously honest Mexican-American marshal, Bob Valdez is double-crossed and humiliated by wealthy, unscrupulous rancher Jon Cypher. Since Cypher has the law on his side, Valdez is obliged to mete out his own justice. He kidnaps Cypher's mistress Susan Clark to force the rancher's hand. At first, Cypher is able to rally a group of tough hombres against Valdez, but one by one they side with the marshal. Director Edwin Sherin, who'd helmed the Broadway production of The Great White Hope, makes several rather anachronistic points regarding the film's racial issues; on the other hand, Valdez is Coming is one of the most-authentic looking westerns ever made-right down to the deglamorization of Susan Clark, who in a 1950s film might have looked as though she'd just visited a frontier branch of Max Factor.
Rating:
PG-13 (for violence, brief nudity and some language.)
Genre:
,
Directed By:
Written By:
In Theaters:
On DVD:
Runtime:
Studio:
MGM Home Entertainment
Audience Reviews for Valdez Is Coming
He's only trying to help a poor widow that lost her husband Bob Valdez is a town sheriff that has been sent to the house of a man accused of murder. Shortly after arriving with a group of men to help him in his effort, the man is shot dead. Valdez quickly identifies the man as innocent and returns to the accuser's house to obtain money to help the widow of the wrongfully killed. The man refuses to help the widow. Valdez will stop at nothing to obtain the money the widow is rightfully owed. "I hope he puts a round in you, you rotten son of a pig." Edwin Sherin, director of My Old Man's Place, delivers Valdez is coming in his directorial debut. The storyline for this picture is fascinating and unique to the genre. The script is marvelous and the subplots are well delivered. The action scenes are just okay and the cinematography is mediocre. The cast delivers solid performances and includes Burt Lancaster, Susan Clark, Frank Silvera, and Jon Cypher. "I didn't like you trying to hit me with that scatter gun." Valdez is Coming is a movie I came across while flicking through the channels on Encore Western. The premise for this movie was very interesting. I loved the main character and his commitment to his mission. I wish the movie was delivered in a more consistent manner. Overall, this movie is definitely worth your time if you're a fan of westerns. "You are a bitch." Grade: C+
Kevin Robbins
It's an average western in almost everyway. Yet this film can be very powerful. Great scenes of Lancaster walking with the cross on his back and gunning down his chasers. Good revenge western that correctly deals with respect and doing what's right.
Zack Butson
½
I know. I know. But I love it. Revenge. Elmore Leonard story. Burt Lancaster shooting the hell out of things. What more can one ask for?
Jordan Hyde