Valhalla Rising
(2010)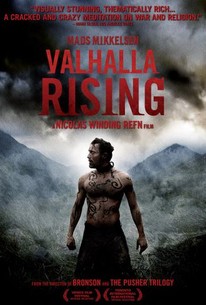 Movie Info
For years, the fearsome figure known only as One Eye (Mads Mikkelsen - PUSHER, FLAME & CITRON, CASINO ROYALE) has defeated everyone he's encountered, but he's treated more like an animal than a warrior. The only person he has any relationship with is the young boy who brings him food and water daily. Constantly caged and shackled, One Eye has drawn the attention of a new force now sweeping the countryside and displacing the society's leaders: Christians.-- (C) IFC Films
News & Interviews for Valhalla Rising
Critic Reviews for Valhalla Rising
Audience Reviews for Valhalla Rising
½
Nicolas Winding Refn brings his style and vision to the action genre set during the Viking age, and he helms it with such conviction and effective, brilliant atmosphere that you are sucked into an enthralling film going experience. What Refn crafts here is a well paced action drama that is one of the finest Viking films I've seen. Forget Pathfinder, this is the Viking film to watch. With a great cast, a terrific script, a strong visual style, Nicolas Winding Refn crafts a stunning picture that is sure to entertain anyone looking for a well constructed period piece. I've always been interested in Vikings, personally I think they're awesome, and with this film, although not accurate of course is still a good piece of entertainment for viewers that are interested Vikings. To have a director like Nicolas Winding Refn to helm the project is quite interesting because he always bring a unique touch, atmosphere and memorable quality to really make the movie standout. The Story is engaging and the cast are terrific, and we have some familiar names that have collaborated with Winding Refn in the past. Valhalla Rising mixes action and drama perfectly well into one movie. Aside from the Pusher trilogy and Bronson, I would say that this one of my favorite outings of Winding Refn. He really brings a certain style of brooding atmosphere to really make the film standout among others. Brilliant, well crafted and near perfect, if you enjoy Nicolas Winding Refn's work, Valhalla Rising a must watch that is highly engrossing start to finish. Aside from the direction, story and acting, the film is very atmospheric as well, which only amplifies the feel and look of the movie significantly. Forget Pathfinder which is a bland, mediocre movie, you want to watch this film instead as the story and overall tone of the film is far more dramatic in scope that it makes it a real treat for film fans.
Coming from a talented filmmaker who seems to place his own personal gratification ahead of the audience's, Nicolas Winding Refn's "Valhalla Rising" is a strange, albeit curious film. Lacking much in the way of traditional story-telling, "Rising" seems to prefer juxtaposing glimpses of visceral, uncompromising violence against some rather beautifully captured scenery. An eerie, atmospheric experience.
Kristijonas Fussman
Super Reviewer
½
[img]http://images.rottentomatoes.com/images/user/icons/icon13.gif[/img] "Valhalla Rising" is one of those increasingly slow films that has a weird way of getting underneath your skin without testing your patience. Regardless of it's incredibly slow pacing it has an extraordinary grip on you, and there are very few films that can do that whilst feeling the need to really take their time. But a film can only do that for so long, and although I adore films with substance this really has trouble getting across it's message without staggering and fails to unfold it comprehensibly. It has it's upsides, I particularly enjoyed Nicolas Winding Refyn's mesmeric direction and the atmospheric cinematography beautifully shot by Morten Søborg but even though it manages to look visually stunning and powerfully acted the story fails to revel in it's simplicity and tries far too hard to be something profound. It could have been a fantastically thought provoking art house movie if it didn't try to shove so many metaphors down your throat. Consequently it just feels self important and you end up admiring the visuals alone. That said I will commend Refyn's style and his scriptwriting but overall it's far too narratively flimsy to be something great. Which is something that it could have potentially been. I enjoyed it because it provokes great intrigue and captures some fine mountain landscapes in a way many action-fantasy films have failed to do, even though it isn't one of them. I can't honestly say there's much going on underneath the surface and the muddled up poetry that's supposedly at work, but strangely, it can prove to be quite entertaining if your a fan of movies that try to deal with issues that regard both redemption and religious beliefs in dark, peculiar ways. However, it doesn't hang together the way that it should. There is stuff in there, it's just the overly puzzling matter of finding it.
Directors Cat
Super Reviewer
Valhalla Rising Quotes
| | |
| --- | --- |
| The Boy: | He was brought up from hell. |
| | |
| --- | --- |
| Hagen: | He's brought us to hell and there is no God. |
| | |
| --- | --- |
| The Boy: | you need a name....and you've only got one eye. |
| The Boy: | You need a name, and you've only got one eye. |
| | |
| --- | --- |
| Barde: | ...they eat their own god, eat his flesh, drink his blood, abominable. |
| Barde: | They eat their own god, eat his flesh, drink his blood, abominable. |
Discussion Forum
Discuss Valhalla Rising on our Movie forum!