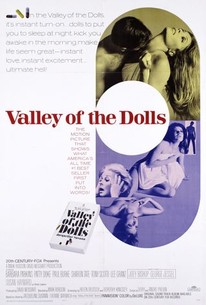 Valley of the Dolls
1967, Drama, 2h 3m
40 Reviews
5,000+ Ratings
What to know
critics consensus
Trashy, campy, soapy, and melodramatic, Valley of the Dolls may be a dud as a Hollywood expose, but has nonetheless endured as a kitsch classic. Read critic reviews
Where to watch
Rent/buy
Rent/buy
Rent/buy
Rate And Review
Valley of the Dolls Photos
Movie Info
In New York City, bright but naive New Englander Anne Welles (Barbara Parkins) becomes a secretary at a theatrical law firm, where she falls in love with attorney Lyon Burke (Paul Burke). Anne befriends up-and-coming singer Neely O'Hara (Patty Duke), whose dynamic talent threatens aging star Helen Lawson (Joey Bishop) and beautiful but talentless actress Jennifer North (Sharon Tate). The women experience success and failure in love and work, leading to heartbreak, addiction and tragedy.
News & Interviews for Valley of the Dolls
Audience Reviews for Valley of the Dolls
A terrible film that feels tremendously dated today, as I imagine it did just as well back in the 1960s (although obviously not from a thematic point of view), like a mawkish vintage soap opera that is not ashamed of its laughable dialogue and absurd situations.

A fairly good take at the life of the 60s but I didn't care for it very much.

This is campy in a gentler way that most fans of camp are probably accustomed to, but the ridiculousness crackling beneath the surface is impossible to deny. The cast's incredible conviction in their material, all of them oblivious to how roundly awful it actually is, is what truly sells Valley of the Dolls. Patty Duke in particular is a delight; never in a million years would you believe that this ham beyond hams was an Oscar winner, hollering her name at the top of her lungs in a filthy alley and clamoring feverishly for her "dolls." You have to commend her dedication, because she truly does embody the character. Unfortunately, that character is less an actress on the fringes of self-destruction as she thinks it is, and mostly just a ridiculous woman with a pill problem. Sharon Tate offers us a woman who the film is trying to tell us, against all visual and inscribed evidence, is not mentally retarded; the challenge we have believing it is its other exciting bit of characterization. The plot is ordinary and sort of tired, honestly, but the excitement comes out in how the little details interface with the big picture. I kind of love its woozy tightroping between luridity and prudishness. The film's total chagrin at nudity, breasts and sex in general (the total disdain for the French "nudie flick") seems kind of hilarious when it's exploiting feminine suffering in just about every other way possible. It's like, don't pretend you're too good to whip out some hoots every now and then. The movie's not misogynist, necessarily, inasmuch as any film with a female character encountering difficulty is, but its portraits aren't particularly flattering either. The only stable female character is a numbingly boring one, as if to suggest that a career-minded, anhedonistic woman is the only kind that can be successful. Gender politics aside, I don't really know if Valley of the Dolls was a very incisive look at Hollywood back in 1967, but I think its relative toothlessness in this day and age is pretty apparent. There's no doubt in my mind that shit like this still occurs, but the problems here feel endemic and our heroines are so chronically up against the wall that these people aren't really relatable. Poor Jennifer North runs across one of the most brutal streaks of bad luck ever committed to celluloid, but when you step back and look at it, it just reads as exploitative. And that's what I love about Valley of the Dolls: despite its delusions of grandeur, it isn't afraid to treat its characters like complete shit for no real reason. All this said, I still prefer Beyond the Valley of the Dolls. All the verve, twice the bizarreness.

Maybe it's a bit slow and we've seen this theme often, but this movie has something, it's very timely for the late sixties, and the cast is great. It's a good drama, even though some people think of it as campy now, I still like it.
See Details