El Ataúd del Vampiro (The Vampire's Coffin)
(1958)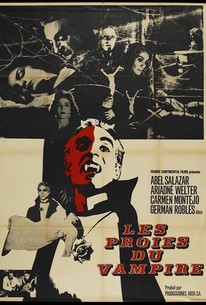 AUDIENCE SCORE
Critic Consensus: No consensus yet.
El Ataúd del Vampiro (The Vampire's Coffin) Photos
Movie Info
In this sequel to the Mexican horror movie The Vampire, the villainous Hungarian Count Duval rises again after a servant pulls the stake out of his heart. Upon resuscitation, the bloodsucking blueblood changes his name to Count Lavud and becomes a bat. Soon he is wreaking bloody havoc upon the hapless Mexican people until someone skewers the wretched flying rodent with a spear.
Critic Reviews for El Ataúd del Vampiro (The Vampire's Coffin)
There are no critic reviews yet for El Ataúd del Vampiro (The Vampire's Coffin). Keep checking Rotten Tomatoes for updates!
Audience Reviews for El Ataúd del Vampiro (The Vampire's Coffin)
This isn't a vampire. He's a regular guy who likes blood. A pair of grave robbers find an old coffin that they open and find a staked vampire. They remove the stake and free the vampire from death. He turns them into zombies that will do his bidding. He hunts down a woman leaving death and destruction in his wake. "I couldn't kill the man who by fate brought me back to life..." Fernando Mendez, director of The Body Snatcher, the Living Coffin, The Spot of Family, and the Black Fit of Dr. M, delivers Vampire Coffin. The storyline for this picture is just okay and the content and characters are a bit dated. The acting is also fairly mediocre. "Aren't you going to scream?" "Me? Why?" This was recently added to the Netflix Halloween queue so I had to give it a shot. This is a foreign film in subtitles that I enjoyed watching as a fan of classic horror, but I can't honestly say this is a good movie worth watching. It's a bit cheesy and dated and only worth your time if you're a diehard of this era. "There's an important scientific discovery inside of this coffin." Grade: C-
Kevin Robbins
½
Mexican Horror at its best, Germán Robles plays a pretty creepy vampire and this is one of the best B&W Vampire movies I have seen. Mexican vampires are a little different then European Vampires, they can walk through walls, they have more then two big teeth, and there flight take off is real neat. And Women Vampires seem to be able to walk around anytime of Day. In this movie a Young Girls aunt dies, because of EL Vampiro and she comes home to find the aunt buried and old Abel the Vampire wanting more then her neck. Back in 1957 if I was a Mexican kid, I would have gotten very little sleep. 4 1/2 stars, this came from Casabegra in a dual pack with The Vampires Coffin. Got it on sale at Blockbuster via mail order (Shipping is $3.00 per dvd when you order 1 DVD thats $30.00 all sent in same box for $7.95 media Mail, That Sucks Blockbuster) , its a good find at any price below $10.00 for the double DVD.
Bruce Bruce
Super Reviewer
½
The film stars off really good, but the plot can't sustain itself after a while. Still, it's nice to look at and intersting that this is what inspired the Christopher Lee movies.
Quinto Wallight
Super Reviewer
El Ataúd del Vampiro (The Vampire's Coffin) Quotes
There are no approved quotes yet for this movie.
Discussion Forum
Discuss El Ataúd del Vampiro (The Vampire's Coffin) on our Movie forum!