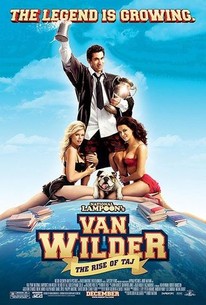 National Lampoon's Van Wilder: The Rise of Taj
2006, Comedy, 1h 38m
45 Reviews
100,000+ Ratings
Rate And Review
National Lampoon's Van Wilder: The Rise of Taj Photos
Movie Info
Van Wilder protege Taj Badalandabad (Kal Penn) heads to England's prestigious Camden University to further his studies and cement his burgeoning reputation as the "sultan of sheets." But when he arrives, he learns that he has not been accepted to the Fox and Hounds fraternal guild and, instead, becomes head of a house of student misfits. Taj rises to the challenge by establishing his own society, the Cock and Bulls, and whipping his misfit comrades into academic shape.
News & Interviews for National Lampoon's Van Wilder: The Rise of Taj
Audience Reviews for National Lampoon's Van Wilder: The Rise of Taj
Has pretty much all the same negatives as the original Van Wilder, only without the boon of Ryan Reynolds. It's an interesting idea to hold on to the name of the character in your sequel/spinoff when they don't actually appear in any way. And by interesting I mean stupid and a transparent attempt to cash in on brand recognition. Seriously you could play this exact same movie only call it "England School Dumb Time" and get 100% the same story across. The script calls/builds upon the original in exactly zero ways. Now, that might be a big deal if the original Van Wilder had some sort of actual value, but seeing as it doesn't, Rise of Taj is just another bad, watchable US comedy like so many others, only this one has the rare inclusion of a non-white lead.

This was funny depending on your type of humor. All I have to say is his dog definitely THE 'MAN' When it first walked by I just said did I see what I thought I saw.. lol However the Plot is part Police academy & I'm thinking caddyshack but def. part Police academy I just can't thin of the other movies title. Oh & if you think you've seen Charlotte before? She was bella in Supernatural & Rose (? poor rose) on Vampire Diaries. The house competition you know who will win. The movie is pretty predictable as there's been others like it before aside from that. Its cool. C+

Wow! This movie is so bad, that if I had the chance to I would go back and wish I had never even seen it at all. Van Wilder 2, not having seen the first, is a complete disgrace, with absolutely no heart or any actual comedy to laugh at!
See Details