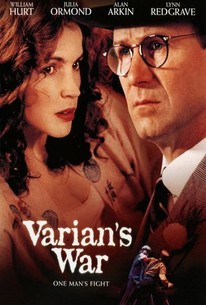 Varian's War
2001, Drama, 2h 1m
4 Reviews
1,000+ Ratings
Rate And Review
Movie Info
New York editor Varian Fry (William Hurt) builds an underground network to save European artists from Nazi persecution during World War II.
Audience Reviews for Varian's War
An American intellectual arranges the escape of European intellectuals from unoccupied France during the beginning of WWII. Once again, William Hurt turns in a fantastic performance. As Varian, he must alternatively play the inspirational soldier, the gay fop, and the determined crusader, and he does it all with the characteristic Hurt charm and distinctive mannerisms. And next time you see a Hurt film be sure to notice his unwavering gaze, signifying he is constantly in the moment and present in the scene. The film itself leaves something to be desired. Varian's mission, to rescue only intellectuals and artists, is definitionally elitist, and I wish there was more attention or recognition of this fact in the film's action. All we get are brief scenes of Varian and his cohorts lamenting that they can't take all who need to flee, but there is no substantive challenge of his character. Also, director Lionel Chetwynd's Nazi Germany is not nearly as dangerous or brutal as other depictions. Perhaps Chetwynd expects us to bring to the film pre-conceived notions of Nazi Germany and feels no necessity to show the horrors. But what comes across instead is a slight menace, devoid of the real danger facing these people. And as the characters escape, they do so through the pastoral of scenes. Such a depiction doesn't reflect what reality must have been like and certainly doesn't equate to compelling drama. Overall, see this film to see why William Hurt is such a strong actor, all the while attempting to ignore the structural and thematic issues.
See Details