Very Annie Mary
(2001)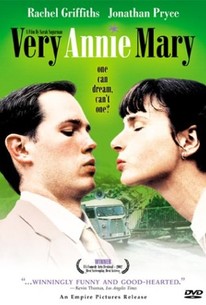 Very Annie Mary Videos
Very Annie Mary Photos
Movie Info
A Welsh woman is belatedly forced to come out of her shell when poor fortune befalls her family and friends in this kitchen-sink comedy. Annie Mary (Rachel Griffiths) is a woman in her early thirties who seems never to have finished growing up; she still lives at home with her widowed father Jack (Jonathan Pryce), hasn't established much of a life of her own, and can't get her relationship with her boyfriend Colin (Rhys Miles Thomas) to go anywhere. Jack, an enthusiastic ladies' man with a passion for opera and no modesty about sharing his vocal talents with those around him, runs a bakery, and is known to sing the occasional aria for the edification of fellow motorists as he delivers bread. Annie-Mary has been slowly saving up money for a down payment on a flat of her own until disaster strikes and Jack suffers a stroke. Confined to a wheelchair and unable to speak, Jack is incapable of running the bakery, and it falls to Annie-Mary to keep the business afloat. Attempting to rise to the occasion, Annie-Mary decides to give the bakery a make-over, with limited success, but as she tries to keep the business going and care for her father, Annie-Mary discovers that one of her closest friends, Bethan (Joanna Page), is suffering from a serious illness and hasn't long to live. Bethan has always wanted to visit America and see Disneyland, so Annie-Mary hatches a plan to raise the money by winning a local talent show; despite her feeble dancing ability, Annie-Mary decides to form a pop group with her friends, in hopes of fulfilling one of her foiled ambitions from her teenage years. Though shot in 1999, Very Annie-Mary didn't find its way to theaters until 2001. ~ Mark Deming, Rovi
Rating:
NR
Genre:
,
Directed By:
Written By:
In Theaters:
On DVD:
Runtime:
Studio:
Empire Pictures
Critic Reviews for Very Annie Mary
Audience Reviews for Very Annie Mary
½
Before I watched the movie I read many reviews, most of which had severe criticisms for the gaucheries, ineptitude, and saccharine sentiment of the film. I saw all the points people were making about the film's so call inadequacies, but I see them differently. First, I will react to the really bad/selfish decision she made. Yes, she did make a bad decision. Unlike most people who make bad decisions, she did go back to face everyone she hurt, she took the blame and she did this every day. She had the courage to face it all without justification--she even stopped looking at her dream house as a punishment. When a basically kind but shy person faces a continual barrage of verbal abuse, such as her father dished out on a daily basis, they do become inept in almost every way. When she finally had the courage to face the issue with her father, her eyes seemed to come alive and she faced him with truth and respect, not anger and spite. I found the movie beautiful to watch from a visual perspective and I found it a good story where people are better at the end than they were at the beginning. By the way, if you have ever seen the movie "Gaslight" with Ingrid Bergman and Charles Boyer, you really can tell someone they are a certain way for so long that they will come to believe it is true. I was glad to see Annie Mary put herself in a true light after all was said and done.
sm johle
½
very uncomfortable film but very well done. i think this is the best role i've seen ioan gruffudd in yet.
Briana Aeby
Discussion Forum
Discuss Very Annie Mary on our Movie forum!
News & Features