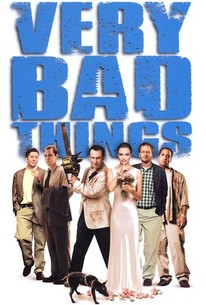 Very Bad Things
1998, Drama, 1h 40m
58 Reviews
25,000+ Ratings
Where to watch
Rent/buy
Rent/buy
Rent/buy
Rate And Review
Movie Info
Kyle Fisher (Jon Favreau) heads to Las Vegas for a bachelor party with four friends. When one of them accidentally kills a hired stripper and a security guard finds the body, unstable Boyd (Christian Slater) kills the guard to keep him from calling the cops, then organizes the group to dispose of the corpses. Back home, Kyle is troubled and has difficulty hiding his worries from his fiancée (Cameron Diaz). Meanwhile, to ensure his own safety, Boyd begins killing the others.
Rating: R

Genre: Drama

Original Language: English

Director: Peter Berg

Producer: Cindy Cowan, Diane Nabatoff, Michael Schiffer

Writer: Peter Berg

Release Date (Theaters): wide

Release Date (Streaming):

Box Office (Gross USA): $9.9M

Runtime:

Distributor: Polygram

Production Co: Initial Entertainment Group

Sound Mix: Surround, Dolby Digital
News & Interviews for Very Bad Things
Audience Reviews for Very Bad Things
Unjustifiably mean spirited and at times headache inducing, Peter Berg's Very Bad Things (1998) is a muddled and ill-conceived attempt at creating a cult black comedy without any funny ideas. We open with Kyle Fisher (John Favreau) a 30 something year old man waiting to be married to his fiancée Laura (Cameron Diaz). He sits alongside Charles Moore (the near silent Leland Orser) and together the pair reminisce the insane recent events that lead them to where they are now. We are then pulled back a few days and Kyle is set to leave on his bachelor party with friends Robert Boyd (Slater), brothers Adam and Michael Berkow (Daniel Stern and Jeremy Piven) and Leeland. From here on out things get undeniable messy; a swooping shot of a Casino table begins a montage of shouting, drinking, drug taking and bromantic babble, all shot with a constantly moving camera and distorted visual overlays jumping from one moment to the next. It's a merciless affair that thankfully ends relatively quickly with the arrival and consequent murder of a prostitute, setting of a dark chain of cover-up murders and madness. It's obvious from both the film's posters and on-screen who are the real stars are here. Slater's performance as the psychotically persuasive Boyd feels as if it could be the later iteration of his character from 1989's cult classic 'Heathers', and Cameron Diaz conveys her character's longing for marriage and subsequent madness in a convincingly annoying fashion. Other character's and performances here are less refined, as Berg to often relies on racial identity and for comedy; his constant stereotyping of Jews in particular grows tiresome quickly. VBT also falls apart when it comes to comedy senarios, with Berg constantly trying to present unfunny situations in a funny manner. Take, for example, the scene in which Boyd goes to set up a murder/suicide, it's undoubtedly the most dramatic point in the plot but for some reason Berg decides to turn it into a penis biting joke. Moments like this occur far to often and what feels like could have been an interesting deconstruction of the American Dream is lost among the chaos. Alongside it's bigger problems VBT suffers also from an overused and over-loud soundtrack, the always annoying shaky cam and a tone that darts between the serious and silly in an obnoxious fashion. If you asked Berg what exactly he was attempting in this film I'm sure he'd say it was a comment on voyeurism and the way people have become desensitized to violence so much that they can laugh at it, and I'm sure that may be the case, but only if it's funny.

Really? No love for Very Bad Things? I still love the ending. Entirely unpredictable and very darkly funny.

Christian Slater single handedly saved this dreadful black comedy. All of the characters (Except for Cameron and Christian) were absolutely dull and annoying. It wasn't funny at all, just really loud mostly. Peter Berg should have gotten someone to read the script before allowing it to be used, geez. The amount of gore was surprisingly adequate. Never have bachelor party, ever. (If you really want to have one, do not to invite Jews)

Boyd: The room is covered in blow; Moore looks like he went at it with a fuckin' mountain lion.  "They've been bad. Very bad." I really liked Very Bad Things for what it was. It's an over-the-top, ridiculous and savage dark, dark comedy. I can totally understand why a lot of people are easily turned off by this movie and don't find it funny at all. The movie is violent and probably would offend most people. I guess that's why I like it. It's not like any of this is actually happening. We all are taking this a little too seriously. I'm going to be the complete opposite of a Roger Ebert type. Ebert feels like movies have to have morals. He said of Very Bad Things that it isn't bad, just "reprehensible." That's why he and many others don't like it, but it is also why I do.  The laughs come from how completely serious the subject matter is. In no other movie would we be laughing at this. But I found myself laughing and I still don't know why. I'm guessing it's because of the over-the-top performances. The actors and director aren't taking this seriously, so why should I. It's pure entertainment and has nothing to say about morals. It throws them completely out the window and basically in my eyes says, "Fuck You" to anyone that doesn't like it.  At the end of the day, this is a movie. If we need to look to movies to show us the right way to live and to give us good fundamental moral characters to look up to; what is that saying about us. Now, I'm not saying that I don't like movies that show the correct way to live and the consequences of living wrongly, but I do like this movie for not being that way. It's something fresh. There are no heroes, just anti-heroes. Really there is no true comedy and that's why it's funny(I know that doesn't really make sense, but it's true). It's a well-made film and it's really entertaining. Slater, Favreau, Diaz, Piven, Stern and Orser all give ridiculous, but good performances. You may hate it, but I like it.
See Details