The Video Dead
(1987)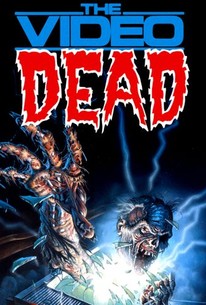 AUDIENCE SCORE
Critic Consensus: No consensus yet.
Movie Info
A television holds within its box a terrifying secret in this horror movie that is laced with dark humor and chills. Late at night, the people who appear on the screen come to life as cannibalistic zombies. Two teens, Zoe and Jeff Blair are the first to discover this when they arrive to a new house before their parents and find the demonic idiot box in the attic. They take it downstairs, plug it in, and later end up fighting for their lives with the hungry apparitions.
Critic Reviews for The Video Dead
There are no critic reviews yet for The Video Dead. Keep checking Rotten Tomatoes for updates!
Audience Reviews for The Video Dead
Completly awful 80s cheesy horror but self-aware and super hilarious thanks to it. It's either super gory or super cheap looking but what binds it all together is the over the top forced acting. Fans of the genre can't miss this.
Francisco Godinho
Super Reviewer
The Video Dead is a forgotten gem of the horror genre. I believe that this one of the few cult films that really does hold up. Sure the film is not that great, but the idea is so unique that you can't really hate it. This is film is an enjoyable take on zombies and manages to be lots of fun, if you can forgive the bad acting and dialogue. The Video Dead is one of those films that it's so bad it's good. The premise like I said is fairly unique. Zombies live inside a TV set and start eating people with their grasp. For what it is, The Video Dead is an entertaining, barely heard of cult classic. The film has been relatively been obscured and forgotten about. Only the most die hard of horror fans know about this little gem. The film does look cheap, but in the end, you don't care because this film is so much fun to watch. I thoroughly enjoyed this different style of zombie film. Horror fans should try to seek this one out and they'll be surprised at how good this film really is. The film isn't perfect of course, but it's definitely an entertaining film to watch with friends. I think it's too bad that The Video Dead has nearly been forgotten by the horror community and this is a gem waiting to be rediscovered. The film is cheesy and lots of fun. The Video Dead will probably appeal to fans of B movies as well as the traditional horror fan. This is a very original film for what it is, and it's a very underrated film for what it is. A fun and amusing zombie flick.
½
When a delivery van pulls up outside a house it can only mean trouble for what there about to leave inside the owner of the house is woken out of his sleep takes a package from them that isnt even his inside is a tv set once plugged in he ends up dead 9 months later new people are moving in a brother and sister the brother finds the tv and turns it on what he didnt know was by doing so he just let a bunch of zombies loose onto the world now him, his sister and the former owner of the tv must put a end to the zombies before more people die. Really cool concept for a movie done in total 80's cheese fashion worth checking out for zombie fans
The Video Dead Quotes
There are no approved quotes yet for this movie.