Vincere
(2010)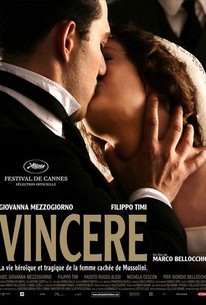 TOMATOMETER
AUDIENCE SCORE
Critic Consensus: Part political treatise, part melodrama, Marco Bellocchio's Mussolini biopic forsakes historical details in favor of absorbing emotion -- and provides a showcase for a stunning performance from Giovanna Mezzogiorno.
Movie Info
This unusual and offbeat historical drama rests on a little-known conceit. Though seldom discussed in history books (and reportedly undisclosed for half a century), fascist dictator Benito Mussolini conceived an illegitimate son by a woman named Ida Dalser -- a son Mussolini allowed to be born, acknowledged, and then promptly denied for the duration of his life. The tale begins in early 20th century Milan, with Benito (Fabrizio Costella) working as the socialist editor of a controversial newspaper called Avanti. His dream in life involves triumphantly leading the Italian masses away from monarchy and toward a "socially emancipated future." He met the young and wealthy Ida (Giovanna Mezzogiorno) once before, in Trento -- where they enjoyed a brief exchange; they re-encounter one another during Mussolini's period at Avanti and it becomes clear that Ida has fallen deeply in love with Benito. She believes wholeheartedly in his ideals and his future as the leader of Italy -- to such an extent that she sells everything she has (her apartment, furniture, jewelry, and the beauty salon she owns) to fuel the development of his newspaper, Il Popolo d'Italia.While the two become romantically entangled, with Ida positively magnetized by Benito's charisma and Benito hooked on a lust for power, Benito quickly switches spiritual and political allegiances overnight, changing from an atheistic socialist to a deeply Catholic fascist -- Catholic, because an allegiance with the Vatican will enable him to wrest and retain control over Italy's government. Benito and Ida marry and parent a son together, Benito Albino Mussolini (circa 1915), but the marriage certificate soon conveniently disappears and Ida learns, to her horror, that Benito has married someone else. She unwisely begins to protest the situation -- so loudly and persistently that she's first forced into house arrest and then shoved permanently into an insane asylum -- raising key questions about the fate and future of her young son. On a stylistic level, director Marco Bellocchio films this historical material with the passion, theatricality, lyricism, and tragedy of a classical Italian opera. ~ Nathan Southern, Rovi
News & Interviews for Vincere
Critic Reviews for Vincere
Audience Reviews for Vincere
Who would have guessed that a biopic - about Mussolini, no less - could have turned out so avant-garde? Although consistently overshadowed by its (admittedly) superior Cannes counterpart "The White Ribbon," the Italian film "Vincere" still has its strengths, disregarding conventional biopic mechanisms in favor of a taut, yet occasionally overwrought, dramatic storyline. By omitting the traditional "this is where he started" bits, "Vincere" immediately catapults the viewers into the center of the action. The film is remarkably operatic, with clamoring swells and swoops and a soundtrack rivaling the likes of "Amadeus." Director Marco Bellocchio ("Good Morning, Night") makes skillful use of old 1930s film reels, masterfully juxtaposing grainy WWI propaganda with scenes from the film, flashing and fading out of victims in mental hospitals with sunken eyes just as the opera voices billow and subside. Where "Vincere" succeeds most at is exploring the concept of sex as a mechanism of character - before Mussolini comes into power, he is seen subjugating Dalser, foretellingly, in much the same way. In one particularly harrowing scene, Dalser spreads herself naked on a comforter, having sold all her possessions in order to fund her lover's Socialist newspaper. "Say you love me, just once," the needy Dalser begs. In true fashion, Mussolini responds by violently pressing his lips against hers, obscenely ravishing her naked body. The image fades out, and a troop of advancing soldiers marches across the screen, preliminarily connecting the bedroom to the battleground before the historical events happen. Yet the problem with "Vincere" - as with all biopics - is that it comes off as quite one-dimensional, essentially focusing on Mussolini's pathway to power through his character and personal relationships. Once the dictator leaves the film halfway following his abandonment of Dalser to a mental institution, there is fundamentally no more film, leaving us to deal with Dalser's theatrics in the absence of a powerful male figure. As a Mussolini biopic, the melodrama had worked wonders. As an Ida Dalser one, it's a bit too much, as the actress Mezzogiorno screams obscenities, psychotically flinging letters onto the ground and generally raising havoc among the ward. Her performance is powerful, to be sure, but her character is simply not interesting nor sympathetic enough to carry the film by herself. Viewers can neither identify nor sympathize with Dalser's overtly masochistic tendencies, and soon, her hysterics begin to grow a little old. If the first half were taken in isolation, "Vincere" might have been applauded as a greater film, portraying the gripping story of dictator ravenous for all aspects of power, sex and love. While the second half is not terrible, it falters tremendously in contrast, carefully and destructively losing steam with every second it goes over.
Jennifer Xu
Super Reviewer
½
Without a doubt, this is the best movie I have seen this year! Political unrest, the rise of fascism and Mussolini, interspersed with actual vintage newsreel footage. There are eerie parrallels with Mussolini's relationship with Ida and Italy itself. As always, Mezzogiorno is equally stunning and enthralling to watch. This is a story that needed to be told and deserves recognition for its complexity and impact on Italian national identity and consciousness.
Stefanie C
Super Reviewer
A very prestigious and dramatic character study of Ida Dalser, Mussolini's secret lover. She bore him a son, and sold all of her belongings to fund his newspaper which made him become known to the public, yet he disowned her and pretended he didn't even know who she was. The film was up for the Golden Palm in 2009 at Cannes, and has a great operatic score, with some beautiful cinematograpy. It was directed by Marco Bellocchio, and stars Giovanna Mezzogiorno(Of "Don't Tell" and "Love in the Time of Cholera.") The best scenes in my opinion were when Dalser was watching Chaplin's "The Kid," her eyes in tears, as she could sincerely relate to the film, and the scene when she was outside in the snow, clinging to the gate, throwing letters out into the night, while a scene of her son pushes down a statue of Mussolini's head in his boarding school, that whole sequence was eloquent and beautiful.
Vincere Quotes
There are no approved quotes yet for this movie.