Violent Cop (Sono otoko, kyôbô ni tsuki)
(1989)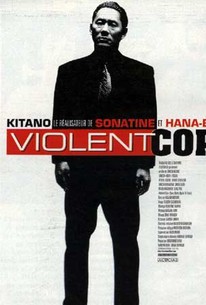 Movie Info
Television comedian, author of a number of books, and star in such films as Merry Christmas, Mr. Lawerence, Takeshi Kitano stepped behind the megaphone for this two-fisted crime thriller after yakuza flick auteur Kinji Fukasaka walked off the project. Police detective Azuma (Kitano) is loose cannon Dirty Harry-like cop who is constantly in hot water with his superiors. At the film's outset, Asuma encounters a group of high school kids beating up an old man. Later that night, he pays a visit to the ringleader's middle-class home and lands a fist square in the kid's face. When he discovers a man in bed with his mentally feeble sister, Akari (Maiko Kawakami), he thrashes the guy. Azuma's crime-world double is a yakuza assassin (Ryu Haku) who's running drugs. Later, Azuma learns that not only is his best friend and partner, Iwaki (Sei Hiraizumi), selling drugs to this gangland thug, but his sister has been kidnapped and coked up by the same creep.
Critic Reviews for Violent Cop (Sono otoko, kyôbô ni tsuki)
All Critics (6) | Top Critics (2) | Fresh (5) | Rotten (1) | DVD (1)
[Takeshi Kitano is] scary, hilarious and, in a strange way, touching.

Takeshi's cinema is full of static images and long digressions, intermissions from the blood sport. When the inevitable clashes recur, the sudden shots of brutality carry a startling kick to them.
The audience gets a chance to watch Kitano smash punks around who would probably never receive their proper punishment.
Audience Reviews for Violent Cop (Sono otoko, kyôbô ni tsuki)
½
Director Takeshi Kitano's unflinching début is a poignant practice in violence and nihilism. The plot (though initially slightly slow) follows the titular 'Violent Cop' Azuma as he commits elevating acts of brutality in a fashion similar to that of 'Dirty Harry' in order to solve a case. Where Azuma distinguishes himself from Harry Callaghan, however, is in his ethos, and the deep existentialism running throughout 'Violent Cop' allows it to become a more thought provoking character study then 'Dirty Harry' ever was. In a directorial sense 'VC' is poetically beautiful and minimalistic, with shots lingering on both small moments of beauty and extreme violence, reminding viewers that both inhabit the same existence and that (for our protagonist) neither one is more shocking then the other. Azuma's acts of violence are often linked to those of the film's primary antagonist and assassin Kiyohiro, with the two even sharing dialogue throughout. In a sense 'Violent Cop' presents itself as a study of oppressed, traditional masculinity in 20th century Japan, and the untameable nature of those men who haven't given in to the confinement of modern existence, Azuma's regard to the rules and those around him (his disabled sister especially) act as testament to this, and the outstanding final confrontation is a natural amalgamation of the brooding violence that preceded it. Outstanding.
Cameron Sherwell
Super Reviewer
½
A tough cop uncovers a drug ring with ties to a corrupt friend in the department leading to a bloody showdown with the gang's hired killer. "Beat" Tikeshi Kitano's directorial debut is an uncompromising crime thriller featuring a protagonist that makes Dirty Harry look like Dudley Doright which doesn't sound particularly original, but what marks Violent Cop out from the herd is its treatment of the character. Usually, "loose cannon" cops come in two categories; the misunderstood hero who is just trying to get the job done, or the corrupt bad guy looking for redemption. Azuma is neither; he's just an arrogant bastard who does whatever he pleases with zero regard for authority, the rights of his suspects or the consequences of his actions. This makes the film oddly refreshing as the story may be rather familiar in its ideas, its bleak and nihilistic attitude (particularly during the brilliantly uncompromising finale) is strangely unique. Takeshi hasn't quite perfected his art yet, the main flaws being that the deliberate pacing flags from time to time and the soundtrack which is so bizarrely inappropriate at times it's almost surreal. On the whole it's the confident first step of a brilliant career of one the the greatest auteurs in modern Japanese cinema and well worth seeing for fans of the genre.
Violent Cop. So, this was originally supposed to be filmed by Kinji Fukasaku (Battle Royale, Graveyard of Honor, Yakuza Papers) who dropped out, thankfully. Takeshi Kitano, who was only starring in the film, took over and japanese films haven't been the same for me since. Unlike other yakuza films, Kitano's violence is quick and cold-blooded. Different from American vigilante cops such as Dirty Harry, who care so much for their victims, Kitano's character Azuma doesn't seem to care about anything but personal revenge. If you're a fan of Beat Takeshi (and you should be) don't pass up this directorial debut.
El Hombre Invisible
Super Reviewer
Violent Cop (Sono otoko, kyôbô ni tsuki) Quotes
There are no approved quotes yet for this movie.