Violet & Daisy
(2013)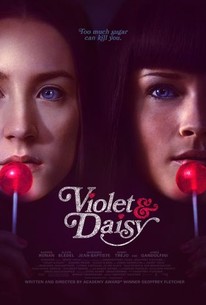 Movie Info
Violet (Alexis Bledel) and Daisy (Saoirse Ronan) are a pair of gum-chomping, gun-toting teenage assassins who casually snuff out crime figures in New York City, bothered only by the fact that a concert by their favorite pop idol Barbie Sunday has suddenly been canceled. Determined to raise cash for some Barbie Sunday dresses, the duo takes on a new hit, only to discover a kind of reckoning in the form of sad-sack shut-in (James Gandolfini) who is dying alone in his apartment of terminal cancer. He persuades the duo to kill him out of mercy, prompting an odyssey of self-examination that catapults the junior enforcers into a world beyond Barbie Sunday and bullets for pay. From Geoffrey Fletcher, the Academy Award-winning screenwriter of PRECIOUS comes a mesmerizing hybrid of New York City crime fable and existential coming-of-age drama in which teenage kicks match wits with adult-world turmoil, placing three wounded souls into a line of fire none expected - themselves.-- (C) Cinedigm
People Who Like this movie also like
News & Interviews for Violet & Daisy
Critic Reviews for Violet & Daisy
Audience Reviews for Violet & Daisy
This is obviously a passion project for writer/director Geoffrey S. Fletcher, after his success writing the screenplay for "Precious." The film follows two teenaged assassins who act girlishly, and care more about fashion and being alternative than their actual marks. They are tasked to kill Michael (Gandolfini) but find it very difficult because they bond with him. The premise could have been great if the characters were better, and it was either more or less campy, but this film is stuck in purgatory. Most of the scenes are quiet, austere moments when the conversation turns to whispers and our protagonists become contemplative about their lives. Though the film progresses with our two killers learning a lot, they come out of the film as bland and cheery as in the beginning. Besides its meandering plot, this film does have amazing cinematography, and the editing mirrors Tarantino's later films. Still, this approach to murder via childish purity needs tender care and attention, and Fletcher is more preoccupied with tone and style.
Spencer S.
Super Reviewer
This was written and directed by Geoffrey S. Fletcher, who won an Oscar for his script for Precious. I'm kinda thinking that maybe the Academy should take his statue back. This tale of two gum chewing, gun toting teenage teeny bopper assassins should have been a fun romp, and yeah, some of it is kinda fun and enjoyable, but overall, it's just a weird, uneven mess. That, and only one of the two leads is an actual teenager (just barely, since she's 19), while the other is freakin' 32. Anyways, Violet and Daisy, when not performing hits, are die hard fans of pop superstar Barbie SUnday, and, when they find out that her upcoming concert is cancelled, they get upset, but decide to drown their sorrows by buying the latest items from her clothing line. Only problem is, they're short on cash, so they take on what should be a quick and easy routine hit, only to end up in a situation that's far more complicated than it first appears. This one had a lot of potential. It could have basically been a far more girly and childlike (but still awesome) take on what a standalone Hit-Girl film might be like. Instead, it's, as I mentioned, a really uneven mess. It's also fairly dull, dumb, and honestly, a tad boring. At least it's only 88 mins. Even then, I found it a chore to sit through. The film just doesn't really know what it is, and it feels like it can decide on if it should veer more towards surreal camp, or if it should be a tad more serious. It attempts to do all of this, and yeah, it falls flat. It also comes off as oddly dated and out of place, like it should have been made circa 1995 instead of 2013. Yeah, it's trying to be 'cool' in that post-Pulp Fiction kind of vein. It doesn't work too well in that regard either. Also, I think ALexis Bledel's attempts to act like a giddy teen make her seem kinda not right in the head. Both she and Ronan struggle to nail down the varying facets of their characters. But maybe it's not their fault. Maybe they're trying their best, and it's Fletcher who screwed up as the writer. Yeah, I really didn't like this, and I'm disappointed because I really wanted to. WHat keeps me from hating it more are two things. 1. The appearance of James Gandolfini as the target of the girls's latest hit, and the appearance of John Ventimiglia, who, like Gandolfini, is a Sopranos Alum. If the actor's name doesn't ring a bell, he played Artie Bucco, owner of (Nuovo) Vesuvio's. Yeah, not even an all too brief appearance by Danny Trejo can help this out too much. And even with Gandolfini, I felt like his performance was too good for this, and would have been better suited to a stronger film. I will say that the cinematography is decent, and, in theory, so is the film's concept. It's just a shame that it's execution fails to hit the mark.
Chris Weber
Super Reviewer
Young. Innocent. Deadly. Good Movie! Although we appreciated the film, I had trouble understanding to whom exactly the target audience would be for the film upon its release. It is too violent to be marketed to the younger crowd. And it has too many comic book type elements to appeal to an older demographic that might have a hard time understanding how and why so many genres intertwine throughout the story. We ourselves loved the film. We were able to extract the humour and the violence separately and enjoyed the overall story. The two leads were innocently conflicted and their views and impressions on life and their past were engrossing tales that connected audiences with their characters. Violet & Daisy might not be the film that everyone wants it to be, expects it to be or maybe even should be, but it was an enjoyable hit man comedy that can take its place amongst the In Bruges of the film world. Two teenage assassins accept what they think will be a quick-and-easy job, until an unexpected target throws them off their plan.