Viridiana
(1961)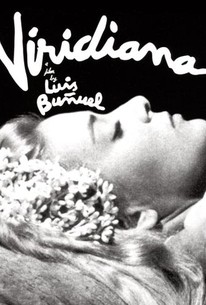 Movie Info
A woman visits her rich uncle before taking her vows as a nun. When he dies, he leaves his estate to her and his son. She becomes a nun and opens up the estate to house some wretched derelicts. When the wretches nearly rape her, she rethinks her religious calling.
Critic Reviews for Viridiana
Audience Reviews for Viridiana
½
Luis Bunuel uses the poor innocent Viridiana (the lovely Silvia Pinal) to make fun, or make a point, against Christian charity and traditional Christian values. He sees them as a waste of time and energy, and an attempt against pragmatism and progress. The film is also critical of idealism. In few words, Bunuel here is at his most acid, but notice it isn't a comedy unless you have a fairly sadistic sense of humor. Viridiana is a novice who goes to see her uncle Don Jaime (Fernando Rey) one more time before leaving to become a nun. Well, Don Jaime falls head-over-heels for her because she resembles his dead wife, but as the love is unrequited, he kills himself. Viridiana is left with a good deal of guilt and is forced to quit her aspirations of becoming a nun. Instead, in order to redeem herself, she goes back to Don Jaime's country house and decides to lodge, feed, and put to work a group of beggars out of Christian charity and mercy, so as to not feel like a sinner. Don Jaime's son (Francisco Rabal), a worldly, "immoral", modern man, moves in and also has plans for the house, that involve a very idealistic vision of a productive agricultural business. Viridiana's beggars turn against her in the end and she is defeated by the mundane. Bunuel makes fun, first of Viridiana's guilt: see where it gets her! Guilt is basic in the living of the Catholic faith, but Bunuel doesn't see what good it does. Then he shows us that Viridiana's idealistc ideas of turning ordinary and drunken beggar/thieves into pious workers by showing them some charity: a) doesn't solve the problem of poverty in Spain, that's for sure b) blows up in her face when they prove to be ungrateful and cruel. Bunuel makes us wonder, then, if charity does make a difference, or whether it really brings benefits to anyone at all beyond a momentary relief. Viridiana's idealism is finally defeated by Don Jaime's son, whom she visites in the final scene to surrender her chastity and her innocence to the carnal world, where, at least according to Bunuel, real things do take place and reality, although gritty, is what it is: good, or bad, and no in-betweens or aspirations of achieving a very sly state of grace. Besides the superb acting and the brilliance of several of the dialogue lines, especially among the beggar characters, Viridiana is worth watching for the amount of religious/moral questioning it raises. Bunuel manages to, effortlessly, entertain and attack at the same time. No scenes are fillers, nothing is coincidence. As usual in Bunuel films, he offers such confusing and mystic elements as oniric elements and religious symbols, and yet the message comes through crystal-clear without having a dream dictionary at hand. Although it is more conventional than his more surrealistic films, Viridiana is no less visceral, no less unapollogetic in its daring reproach of tradition and religious convention as The Discreet Charm of the Bourgeoisie, or any of his better-known films for that matter.
½
"What a heavy burden God has laid on men! I have seen all the things that are done under the sun; all of them are meaningless, a chasing after the wind." - Ecclesiastes 1:13-14
Randy Tippy
Super Reviewer
Maybe because I didn't see this when it first arrived on the scene, I have to say that nearly 50 years later, it actually strikes me as dated and, in many ways trite. Of course in its day, I don't doubt that it was shockingly controversial, and who can knock anything that can tie Francisco Franco's undies in a knot. Worse yet for me, I wasn't raised a Jesuit, so I may be lacking in the kind of obsessive love-hate relationship intensity that is presented here in terms of Catholicism and Christianity in general.
I am, up front, a Christian, but I find the assault on Christianity to be pretty harmless, although moderately interesting.
What I don't see the critics talking about nearly as much, is the sexual perversity of the movie, which strikes a much louder chord with audiences of any time, I'm guessing. From the bizarre desire of an uncle for his niece, and the strange machinations to which he resorts in order to seduce her, to the menage a trois ending, I'd have to say if there's anything that's going to "entertain" a viewer today, this would be more likely. That one image of the maid biting the cousin's hand is surely as provocative, from a cinematic viewpoint, as any other image in the film
Sadly, the revolutionary quality of this film is lost on someone who may have read too many books and seen too many movies over the course of a lifetime.
Lanning : )
Super Reviewer
Viridiana Quotes
There are no approved quotes yet for this movie.