What to know
critics consensus
Voice from the Stone strands some solid performances in a would-be thriller distinctly devoid of spine-tingling moments. Read critic reviews
You might also like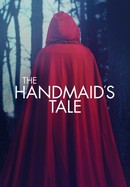 Rate And Review
Voice From the Stone Videos
Voice From the Stone Photos
Movie Info
Verena (Emilia Clarke) is a determined young nurse hired to help a mute young heir (Edward Dring) within an isolated castle in Tuscany. The more she observes the boy, the more Verena becomes convinced he has fallen under the spell of a powerful and otherworldly persona trapped in the villa's stone walls, one that seems to be rapidly entwining with her own.
Critic Reviews for Voice From the Stone
Audience Reviews for Voice From the Stone
In 1950s Italy, a young woman who claims to have special skills dealing with troubled children is tested to her limit when she meets Jacob who has refused to speak for six months following the death of his concert pianist mother. The expansive estate location, with its red and green vine-covered walls, is a fantastic, eye-filling setting. So much for the good news. The story proceeds slow as molasses, We are told that the boy believes that his mother talks to him through the walls and the stone at the nearby quarry, subjecting us to an endless string of people with their ears pressed to walls with desperate searching looks on their faces. Clearly there is something worse than watching paint dry and that's listening to it, an exercise in cinematic futility only reminding me too much of the wall-watching scenes that killed tension in 'The Darkness'. Not that this is a suspense movie, because truly I do not know what kind of overall effect the director is going for. It's a fractured family drama punctuated by moments that suggest possible hypnosis, drugging, ghosts, or even witchcraft, but I can't be sure about any of those except one. In fact I seriously doubt that anyone but the screenwriter can tell me exactly what really happens, but what ended up on screen plays out like a fifth-rate Poe imitation. I love Emilia Clarke, but in all honesty she is only a decent and not great actress. She tries her best but isn't going to elevate the material in the way that Nicole Kidman did with a similar role in 'The Others'. She isn't helped at all by the perpetually morose Martin Csokss as Jacob's father, whose shifting opinion from liking to disliking her presence only seems to exist in order to send the story in a different direction. Take his sudden decision that she looks a lot like his dead wife (which she doesn't at all) in order to get her to pose nude for his unfinished sculpture, another scene beautifully shot but completely gratuitous. You'd think this was a Weinstein project where Harvey had threatened to end production "unless that dragon lady gets naked."
Quotes
There are no approved quotes yet for this movie.