Wal-Mart: The High Cost of Low Price
(2005)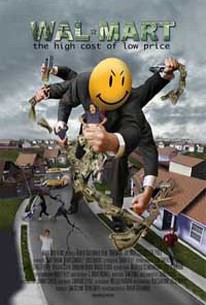 Movie Info
Everyone has seen Wal-Mart's lavish television commercials, but have you ever wondered why Wal-Mart spends so much money trying to convince you it cares about your family, your community, and even its own employees? What is it hiding? Filmmaker Robert Greenwald takes you behind the glitz and into the real lives of workers and their families, business owners and their communities.
Critic Reviews for Wal-Mart: The High Cost of Low Price
Audience Reviews for Wal-Mart: The High Cost of Low Price
"It will change the way you think, feel, and shop..." Wal-Mart: The High Cost of Low Price is an extremely important documentary, even more so now then when it was even made. The film came out in 2005 and 8 years later, it's still as relevant as it was when first released. It's a film that is supposed to open your eyes up to what these global corporations are doing to not only the economy, but to individuals all over the world and also to communities like we all live in. Wal-Mart is an easy target to attack, as it is the biggest and most profitable corporation in existence. Not only should this be a wake up call for what Wal-Mart is doing, but for what many corporations are involved in on an everyday basis. It's disgusting. A variety of angles are taken here to show the corrupt, manipulative nature of Wal-Mart. If we were to take their word for it, Wal-Mart would only be seen as a good thing. The prices are low which help the average family make ends meet with their budget. Also, the CEO would like us to believe that their employees are important to them, that they are given good benefits, and good pay. In reality none of this is true, but the lie is easy to sell when you're selling everything at the cheapest price and have billions of dollars to advertise more lies. Wal-Mart is just another example of everything that is wrong with America today. What happened to the good old days, when mom and pop stores thrived, and people were actually able to make up their own minds on where to shop. Now advertising agencies know exactly how to warp everyone's minds and can pretty much make us believe anything is good and helpful to our communities. You gotta love America now. It's corporately owned from government to community and this movie does a great job showing Wal-Mart's involvement in our downfall.
Melvin White
Super Reviewer
Documentary about the business practices of Wal Mart is an eye opening film that tells the behind the scenes story of what really happens. Everyone shops at Wal Mart; they are the biggest chain store in the world. This is a compelling documentary that explores an important topic. In many ways, we all know how Wal Mart operates, and it is very unfair and immoral. However, the store chain has such a grasp on our culture, which it is hard to boycott when it is the only store in a small town. I really don't approve of their methods, but I guess big corporations can easily get away with it because they have a major foothold in retail sales. This is a must see documentary and it is also an important one. Watching this film you realize that big companies like Wal Mart can get away with so much because they make huge profits. The film examines what the company does to small businesses, their employees and the environment. Despite its importance, I don't believe that the film will do anything to really make an impact on consumers. But for me, I was stunned at what I watched and thought that this is worth seeing. Wal Mart should definitely change their policies as they are one of the leading chain stores in the world, and many other companies are sure to use the same practices. Overall this is a shocking documentary and it is an eye opening film that definitely uncovers some truths that the company will surely find hard to reply to. With a film like this, the company should definitely have revised what they do in terms of business practices to protect at least some form of integrity. However, they only care about profits and don't care about the cost of what the company do to communities and people in general.
It is one of my sources of happiness to say that: I dont know Wal-Mart, neither do I take one sided Documentaries serious. What this Documentary shows, it is not a secret those many 'chain stores and every second little store around the corner do it already since before the Wal-Mart. I think these kind of Documentary confuse people and just cause headache.
Wal-Mart: The High Cost of Low Price Quotes
There are no approved quotes yet for this movie.