Walt: The Man Behind the Myth
(2001)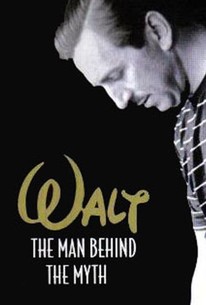 AUDIENCE SCORE
Critic Consensus: No consensus yet.
Movie Info
Few men have had as great an impact on American popular culture as Walt Disney. Starting with a handful of cartoon characters, Disney created an entertainment empire that revolutionized movies and television, and created the theme park industry as we know it today. Disney also created a carefully molded public image as the joyous and fatherly spinner of magic tales, but behind that facade was a shrewd businessman, an artist who knew how to bring out ideas in his collaborators, and a family man who was devoted to his wife and children even though he wasn't always sure how to show it. Walt: The Man Behind the Myth is a made-for-television documentary (produced by the Disney organization) that takes a look at the Walt Disney his friends, family, and co-workers knew, featuring interviews with almost 50 people who share their memories of Disney, illustrated with rare behind-the-scenes footage from the Disney studios and never-before-seen home movies. Dick Van Dyke narrates.
Cast
Critic Reviews for Walt: The Man Behind the Myth
There are no critic reviews yet for Walt: The Man Behind the Myth. Keep checking Rotten Tomatoes for updates!
Audience Reviews for Walt: The Man Behind the Myth
Walt Disney is one of the most iconic names in the history of cinema. Walt: The Man behind the Myth is a well crafted documentary about Walt Disney, the most famous animator and founder of Walt Disney Studios. Of course I don't to elaborate what work he has done because let's face it, we all know his legacy. This film tells his story and his start to fame from his earliest attempts in animation to his first feature Snow White to the creation of Disney Land. The film features terrific interviews with people who knew Walt and worked on his films. This is a must watch for anyone interested in the real story of Walt Disney. This film covers plenty of ground and is pretty in depth in telling everything that Walt Disney has done. I really enjoyed the film, and felt it was a well made feature that chronicles one of the greatest pioneers in film. The documentary is a fine piece of work that should be seen by anyone that wants to know more about Disney's legacy. This is a well crafted documentary, and one that is among the finest that I've seen. Fans of Disney's work will most likely be delighted by this picture and it is a film that is engaging as we see how the films were made, how they came to be and how Walt Disney would venture in many other aspects of film and ultimately create Disney Land, which unfortunately he would never witness its grand opening. In terms of a documentary, this is a near perfect film that is a necessary viewing for audiences that are very much interested in this truly unique and legendary story of one of the most legendary figures in cinematic history.
½
Who is the man behind the name on perhaps 50% of screen entertainment we see every year (that's only my own rough guess, it's probably even more!)? Here is a brief thumbnail overview and the merest idea of the guy who started it all. Produced by the family and organization he started the film lacks his own personal touch (and real documentary value: for instance, the lifelong cigarette smoker - he chain smoked, it finally killed him - is never shown even once with one in his hand) but not his personal warmth, serving up a reverential glimmer of one heck of an American original. Although interesting to any self-styled social historian curious about root fundamentals of American culture, this one's especially for the legions of fans.
Kevin M. Williams
Super Reviewer
Walt: The Man Behind the Myth Quotes
There are no approved quotes yet for this movie.