Wanda
(1971)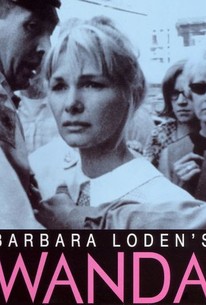 Movie Info
With her first and only feature film - a hard-luck drama she wrote,directed, and starred in - Barbara Loden turned in a groundbreaking work of American independent cinema, bringing to life a kind of characterseldom seen on-screen. Set amid a soot-choked Pennsylvania landscape,and shot in an intensely intimate ve'rite' style, the film takes up with distant and soft-spoken Wanda (Loden), who has left her husband, lost custody of her children, and now finds herself alone, drifting between dingy bars and motels, and callously mistreated by a series of men - including a bank robber who ropes her into his next criminalscheme. A rarely seen masterpiece that has nonetheless exerted anoutsize influence on generations of artists and filmmakers, Wanda is acompassionate and wrenching portrait of a woman stranded on society's margins.
News & Interviews for Wanda
Audience Reviews for Wanda
I want to begin this review by saying I did not watch Wanda on my own free will; it was screened in my film class at school. Had I not been told about it by my professor, I would have never heard of this. Wanda is perhaps the most no-name film I've ever seen; equipped with a tiny budget and bad actors, it makes a lot of sense as to why this film made no audience or money. To be honest, I was expecting worse; it was pretty bad, but not as terrible as I was anticipating. The first 20 minutes or so is forgettable nonsense and the main chunk of the movie (which is the middle) is alright. It reminded me of Bonnie and Clyde, as a criminal named Mr. Dennis slowly teaches the naive and idiotic Wanda the ropes of being a criminal. The ending seemed completely out of place and did not properly but a cap on what the movie showed us, so overall it amounted to nothing. The acting was also pretty bad, mainly from supporting roles. The best parts of Wanda were a couple of relatively humorous scenes that showcased Wanda's naivety and, well, dumbness. Overall, I wouldn't recommend Wanda to anyone but the most die-hard of art house fans.
Kevin Mozulay
Super Reviewer
Wanda is a interesting experimental / independent film, that presents a sad and boring "Bonnie and Clyde" lifestyle with lost characters and empty life. The title character Wanda is so alone, that, stay with the person that most hate her, this is the level of dumb and sadness in both people on Wanda. Loden's drama it's in the my list of the most disappoint films that I ever saw. Rotten.
Lucas Martins
Super Reviewer
a very bleak and yet very intriguing debut for writer/director/ lead actress barbara loden, who was at the time elia kazan's wife. the film couldn't be more different in style from kazan's work; it's as minimalist as can be, shot in cinema verite style with improvised dialogue. the title character has no direction in life and seemingly wanders from one bad situation to another. at first i was frustrated with her and her inane actions but as the film went on i became more and more anxious for her welfare, especially after she falls in with a criminal who bullies her into assisting him in a bank robbery. loden has said she wanted to make 'bonnie and clyde' without the romanticism and that, coming from an impoverished background, she may well have ended up this way herself. kudos for her honesty and determination in getting this film made, with little to no support from her husband. and it's a pity she never made another film; she died of breast cancer in 1980
Stella Dallas
Super Reviewer
Wanda Quotes
There are no approved quotes yet for this movie.