Warning Shot
(1967)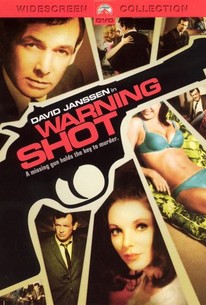 AUDIENCE SCORE
Critic Consensus: No consensus yet.
Movie Info
LAPD detective Sgt. Tom Valens (David Janssen) is a ten-year veteran of the force who has had more than his share of hard luck lately -- his marriage is a wreck, and he hasn't fully recovered from a serious wound suffered in the line of duty a year ago. He and his partner, Sgt. Ed Musso (Keenan Wynn), are working a stakeout one night at the Seascape Apartments, in hope of catching a killer who has already claimed three victims in that part of the city, when he confronts a man seemingly trying to sneak off the premises. The man tries to run, stops when ordered but starts to pull a gun, and Valens shoots him dead. The deceased turns out to be Dr. James B. Ruston, a well-known humanitarian and pillar of the community -- worse yet, the police can't find any trace of the gun Valens says he saw Ruston pull. Valens' nightmare builds gradually, as he's first assigned to a desk, then hung out to dry by an indifferent coroner (Carroll O'Connor) at an inquest, suspended from the force, and then indicted for manslaughter by a crusading prosecutor (Sam Wanamaker) with a personal ax to grind. Villified in the press and by protesters in the street, Valens has few even slightly sympathetic ears around him -- his partner, his captain (Ed Begley Sr.), and his soon-to-be-ex-wife (Joan Collins) -- and even fewer allies. The one attorney (Walter Pidgeon) with enough juice to fight the case on an even footing with the DA says he would only plead him guilty and try for a deal, based on his understanding of the law and of juries; and the one public pundit (Steve Allen) who takes his part is doing so for the most cynical of reasons. Valens realizes that the only way to save himself is to first prove that the so-called victim wasn't quite the candidate for sainthood that he seemed -- why did he run? -- and to find the missing gun. To do all of that, he's got to confront the victim's aggrieved patients (Lillian Gish), his alcoholic widow (Eleanor Parker), and his employees (Stefanie Powers), all of whom have every reason to hate Valens. He starts to dig into the doctor's finances and finds some anomalies that no one can explain (or wants to look at -- they'd rather hang Valens), and as he puts together the pieces of the puzzle, helped by a sympathetic tenant at Seascape (George Grizzard), Valens finds himself pursued by the doctor's thug of son and his friends with mayhem on their minds -- and someone else with a deadlier agenda.
Rating:
NR
Genre:
, , ,
Directed By:
Written By:
In Theaters:
On DVD:
Runtime:
Studio:
Paramount Pictures
Critic Reviews for Warning Shot
Audience Reviews for Warning Shot
½
Good crime drama with a most impressive cast list. Janssen is an acquired taste but all the secondary roles are filled with a galaxy of well known character actors and mid level stars. Has a very period feel and at times an almost 70's TV movie quality but it's action packed and well put together so if you're in the mood for something that is fast paced and requires some thought but not too much this should work.
Warning Shot Starring: David Janssen, Keenan Wynn, Lillian Gish, and George Grizzard Director: Buzz Kulik When police detective Tom Valens (Janssen) shoots someone he believed to be armed and dangerous, but no weapon is found and the dead suspect turns out to be a much-loved, famously philathropic doctor, he finds himself on trail fof manslaughter. Already found guilty by public opinion, Valens races against the clock--the start of his trail where he will certainly be found guilty and sent to prison--to figure out what happened to the gun he [i]knows[/i] he saw, as well as figure out why such an esteemed person was behaving so suspiciously. "Warning Shot" is a mildly interesting cross between a detective story and a courtroom drama. It's an interesting enough little story, but it suffers from the fact that the character of Tom Valens never really emerges from the generic "tough, honest cop innocently accused" template. Yeah, he lives off nothing but buttermilk, and he has a troubled marriage, but that's about it. Heck, we gain more insight into the character of the DA hell-bent on railroading Valens than we do into the character we're supposed to sympathize with. There are certain parts of the film that haven't aged well--such as some "news-footage" included to illustrate how the public is leaping to the conclusion that Valens is some wacked-out, gun-happy cop who just blows people away willhe-nillhe. The inclusion of a stereotypical hippy had me giggling, although the filmmakers most certainly were not looking for that reaction. Overall, though, the film is worth seeing, but it's not particularly great, despite its line-up of great actors.
Steve Miller