Warriors
(2002)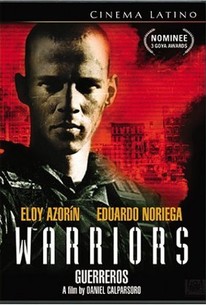 AUDIENCE SCORE
Critic Consensus: No consensus yet.
Movie Info
Daniel Calparsoro's Guerreros is set in the Balkans in the wake of the ethnic conflict between the Serbs and the Kosovo Albanians that prompted NATO military intervention in 1999. A group of young Spanish army engineers is stationed in a Kosovo village to help the Albanians recover from the war's devastation. The unit is sent on a mission to restore electricity to a small town in hostile territory, but their operation is derailed when they get caught up in the fighting between Serb and Albanian paramilitaries. Struggling to stay neutral, the peacekeepers find themselves fighting for survival as they scamper around the Balkan countryside searching for a way back to headquarters. Their descent into the quagmire of ethnic fighting tests the limits of their idealism and underscores the moral complexities posed by humanitarian intervention. This polished actioner screened at the 2002 Toronto International Film Festival.
Critic Reviews for Warriors
There are no critic reviews yet for Warriors. Keep checking Rotten Tomatoes for updates!
Audience Reviews for Warriors
In 1999, a platoon of Spanish soldiers is stationed in Kosovo, after the war is apparently over. Instead of patrolling the streets or doing something else military, they are left with refurbishing a church. While there, Private Vidal(Eloy Azorin) breaks the non-intervention rule by trying to save the life of a man he saw kidnapped but to no avail as he gets his butt kicked not only by the killers but also his fellow soldiers for trying to get them killed. For a change of pace, Lieutenant Alonso(Eduardo Noriega) feels it would be good for his men go to a nearby village to restore the electricity. So, of course, something goes wrong... "Warriors" is a gritty movie about the futility of war and how one single mistake can ruin everybody's day. The movie gets off to a weak start before gradually improving. However, the simple story is loaded down with details that are irrelevant to the main plot.(Sadly, we are only supposed to care about the NATO soldiers. Everybody else is extraneous.) And a confusing ending does not help.
Warriors Quotes
There are no approved quotes yet for this movie.